GNPC Offers Oil & Gas Scholarships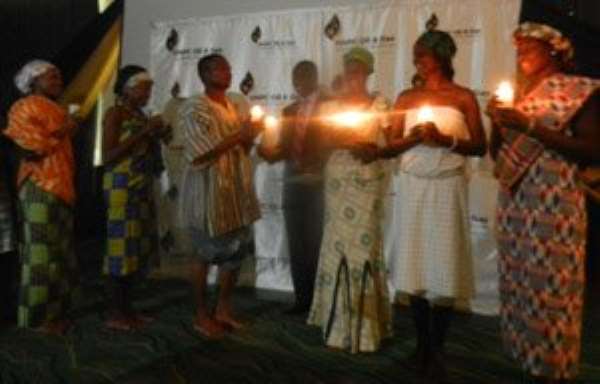 Emmanuel Armah Kofi Buah and the 10 beneficiaries
The Ghana National Petroleum Corporation (GNPC) has commenced an initiative that would give Ghanaians the opportunity to pursue higher education to boost the capacity of the oil and gas industry.
The GNPC Oil & Gas Learning Foundation, which was outdoored yesterday in Accra, was set up to create knowledge to attain Ghana's aspirations in the oil and gas sector.
The foundation, which started operations in 2012, has so far offered financial support to 14 people to cover their tuition and other expenses for their bachelors, masters and doctorate degrees.
Nana Boakye Asafu Adjaye, Chief Executive Officer (CEO) of the Ghana national Petroleum Corporation (GNPC), who made this known before the introduction of a five-member board to run the affairs of the foundation,  said last year GNPC made an initial allocation of GH¢3,000,000 to the foundation.
He said since Ghana is an established oil producer, there was the need to invest strategically in the development of local content and national capacity.
'The establishment of the foundation gives meaning to our core pillar of building capacity and catalyzing local content development. This initiative is not about training GNPC employees.'
GNPC, through the foundation, hopes to fulfill one of its key mandates of ensuring the training of citizens of Ghana and the development of national capacities in all aspects of petroleum operations,' he said.
Furthermore, it is aimed at enhancing the returns on Ghana's investment in the oil and gas sector.
Mr Asafu-Adjaye expressed the hope that the council would put the right measures in place to maximize benefits to the nation.
Emmanuel Armah Kofi Buah, Minister of Energy & Petroleum Resources, in an address, said the inauguration of the foundation showed Ghana's readiness to obtain maximum benefits.
He further noted that a Legislative Instrument (LI) on local content was currently before Parliament.
'We will implement the legislation instrument to the letter,' said the minister.
Mr Kofi Buah said his ministry was bent on ensuring the attainment of the local content aspirations.
'Ghanaians will play meaningful roles in the oil and gas industry.'
 By Emelia Ennin Abbey