Kumasi fire victims to receive financial support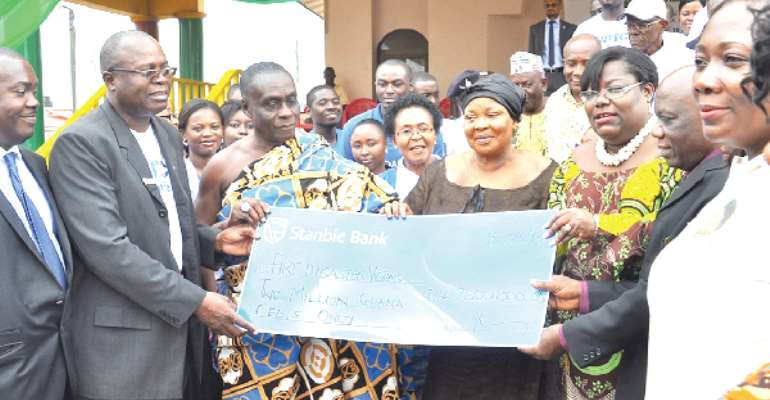 It was all smiles for victims of the recent Kumasi market fire when the government yesterday gave the green light to Stanbic Bank to start the disbursement of its financial grant to 2,041 traders to enable them to re-start their businesses.
The Minister of Gender, Children and Social Protection, Nana Oye Lithur, made the symbolic presentation of the victims' share of the GH¢2 million the government has made available to support a total of 7,381 fire victims in Accra and Kumasi.
Some of the victims could not help but applauded intermittently while the minister delivered her address.
Making the presentation at a ceremony at the Jubilee Park in Kumasi, Nana Oye Lithur said Stanbic Bank was to disburse the money to the beneficiaries through their respective banks.
The financial package formed part of the GH¢5 million promised by President John Dramani Mahama to support the fire victims.
Nana Oye Lithur said the government could not meet the cost of items lost in the market fires but expressed the hope that the intervention would  alleviate their plight.
She stressed the need for the traders to cultivate the culture of savings, acquisition of insurance policies, safety and proper management of the markets to help avoid any future disasters.
Mr Samuel Yaw Adusei, the Deputy Ashanti Regional Minister, said the government was committed to the improvement of the market to sustain the traders in business  to enable them to contribute their quota towards national development.
Receiving the dummy cheque, Mr Joseph Sampson, the Ashanti Regional Manager of Stanbic Bank, said the bank has cordial relationship with some of the affected fire victims.
Madam Yaa Ateah, a victim, thanked the government profoundly for the support but appealed to the KMA to give them some tax relief to enable them to recover from the financial challenges they faced.
By John K. Essel/Daily Graphic/Ghana