Man arrested for vehicle theft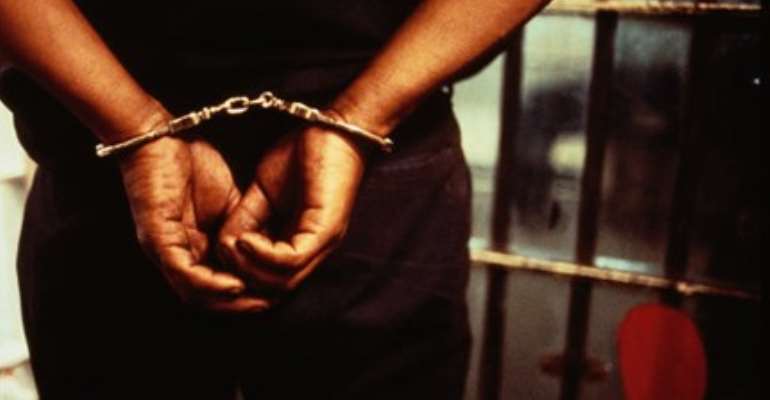 A 35-year-old man has been arrested for allegedly stealing a Toyota Rav 4 vehicle belonging to a businessman. Samuel Pobee,  was picked up on a church premises in Accra on August 11, 2013, after four months of hiding.
Pobee, popularly known as Alex Addo, is said to have lied to the owner of the vehicle, Mr Samuel Oduro, who had placed a 'For Sale' notice on his vehicle, that he would buy the vehicle after testing it.
Pobee, who had earlier introduced himself to Oduro as a banker, was given the vehicle for test-drive, only for him to run away with it.
The Adabraka Police Crime Officer, Deputy Superintendent of Police (DSP) Mr Ebenezer Nketiah, told the Daily Graphic yesterday that Pobee used the vehicle as collateral for a loan of GH¢6,000 after he had fled with it.
On April 29, this year, Pobee spotted Mr Oduro in the vehicle with the 'For Sale' notice at the back windscreen.
Mr Nketiah said Pobee called Mr Oduro, introduced himself as a banker and agreed to meet Mr Oduro to discuss the details of the transaction.
Mr Nketiah said when Mr Oduro reached the bank, he called Pobee, who came out of the bank, dressed in a suit and with a file in his hand.
After some interaction, the two agreed on a price of GH¢42,000 and Pobee requested to be allowed to test the vehicle.
Mr Nketiah said Mr Oduro released the vehicle and its papers to Pobee to go through and that was the last he saw of him.
Mr Oduro then lodged a complaint at the Adabraka Police Station and the police started a hunt for him.
Police investigations revealed that Pobee was a church elder of a popular church at Tabora-Israel in Accra.
According to him, the investigations also revealed that Pobee had given the vehicle to a man for a loan of GH¢6,000 to enable him to clear his goods from the harbour.
By Dominic Moses Awiah/Daily Graphic/Ghana