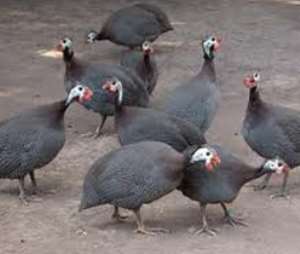 A former Northern Regional Director of the Ministry of Food and Agriculture, Mr Sylvester Adongo, has said Ghana can soon be exporting guinea fowl to neighbouring countries.
That, he said, would be achieved by the investment being made by the SADA/Asongtaba Guinea Fowl Production and Marketing Company Limited in guinea fowl production.
Mr Adongo said the country should be expecting an explosion in guinea fowl production in the next two years that would meet local demand and urged Ghanaians to switch from eating imported poultry to guinea fowl, which, he said, had no fat content.
'If we work hard enough, we should be able to export guinea fowl to other countries in the next five years,' he told the GNA.
Mr Adongo, who is a consultant to the SADA/Asongtaba Guinea Fowl Company, appealed to farmers and young people to go into the production of guinea fowl.
He said the Northern Region produced half a million of the bird and Upper East and Upper West regions together produced not less than 1.5 million guinea fowls annually.
Mr Faisal Webre Keliou, the Project Manager of the SADA/Asongtaba Guinea Fowl Production and Marketing Company Limited, said the company started operating in the guinea fowl business this year and had so far engaged more than 1,500 youth.
He said jobs would be created in egg collection, brooding, hatching, production and marketing as areas such as distribution and processing of the meat would require more persons.  Mr Keliou, therefore, urged interested individuals and farmers to get involved.
Mr Ben Awuni Asatanga, a guinea fowl farmer based in Nalerigu in the East Mamprusi District, told the GNA that each year he produced 10,000 guinea fowls for the market and earned not less than GH¢5,000 after investing GH¢3,000 in the business.
He said he had devoted much of his youthful days to guinea fowl production and had acquired three houses and other property, adding that the demand for guinea fowl should encourage more people to go into its production.
GNA