UN officials warn Central Africa looms as 'failed state'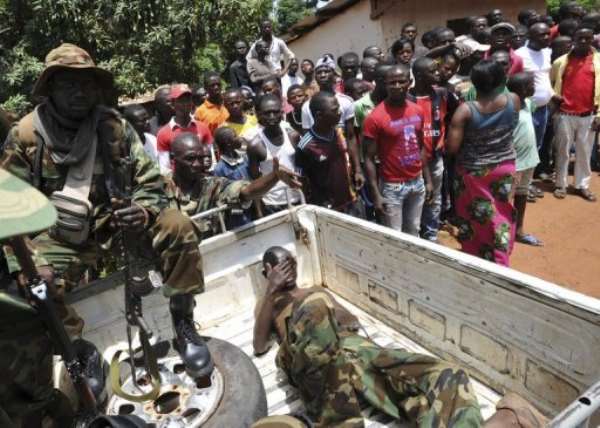 People watch Seleka rebels after they arrested men (in truck) suspected of looting in Bangui on March 26, 2013. By Sia Kambou (AFP/File)
UNITED NATIONS (AFP) - Top UN officials called on the international community Wednesday to act to keep crisis-torn Central African Republic from becoming a "failed state."
Speaking before the UN Security Council, the officials called on the body to support the African Union's efforts to restore order in the country, plagued by insecurity and humanitarian crisis.
"The Central African Republic is not yet a failed state but has the potential to become one if swift action is not taken," the UN's under-secretary-general and emergency relief coordinator Valerie Amos said.
According to the United Nations, 1.6 million people in the Central African Republic are in need of urgent help. The crisis has forced 60,000 people to flee to neighboring countries and has displaced 206,000 individuals.
Amos called for the Security Council to support the new International Support Mission to Central Africa (MISCA). The 3,600-person force, under the auspices of the African Union, is tasked with helping the Central African government secure its territory.
She also called on the international community to provide "funds and logistical support" for the country, noting that only 32 percent of $195 million requested by the United Nations has been provided thus far.
"If inadequately addressed, this crisis threatens to spread beyond the Central African Republic's borders to further destabilize a region already facing significant challenges," Amos said.
The Central African Republic has been sliding into chaos since rebels took over in March, with reports of executions, looting and epidemics.
After ousting Francois Bozize from power, the international community granted the Seleka rebel alliance de facto recognition and a shot at steering the nation through a transition period leading to fresh polls.
Ivan Simonovic, assistant secretary-general for human rights, focused on the impunity of those responsible for abuses, particularly rogue elements of Seleka.
The International Federation for Human Rights said in July it had documented at least 400 murders by Seleka-affiliated groups since March. Barring a few arrests in Bangui, all those killings have gone unpunished.
"This council should send a clear signal to the military commanders and transitional authorities that they are criminally responsible according to international law for preventing crime and punishing the perpetrators," Simonovic said.
"In one word, it is time to act," said Babacar Gaye, UN special representative in Central Africa.
Security Council ambassadors from the body's 15 member countries then met in closed session after which they were to issue a statement.