Aboabo gets electricity at last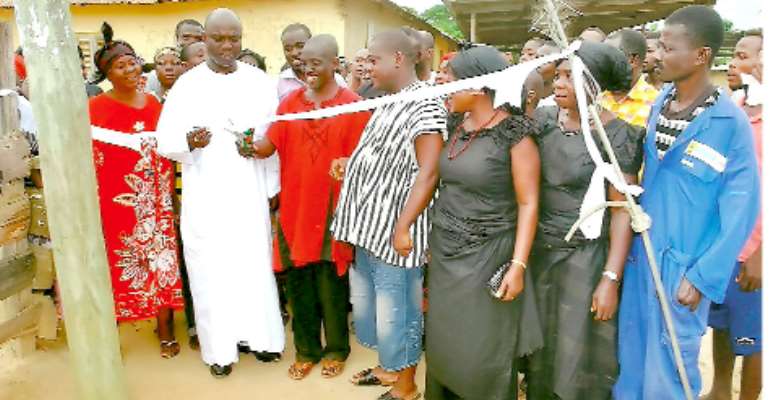 It was all joy and jubilation as the people of Aboabo, a  small community near Akyem Tafo in the Eastern Region, for the first time been supplied with electricity.
The community with a population of 400, lies half a kilometre off the Apedwa-Bunso stretch of the Accra-Kumasi Highway.
Because of the small nature of the community which lies within the Abuakwa North Constituency, it had, since its creation nearly 80 years ago, been denied the necessary basic social amenities, especially electricity, as a result of which the people relied on lanterns.
Aboabo  produces cocoa and foodstuffs.
However, most of the inhabitants, due to poverty, could not afford to regularly purchase kerosene to fuel their lanterns, so they relied on locally made lanterns which  emitted smoke, making it unsuitable for use in the bedroom.
Realising such a difficult situation, the Member of Parliament for the Abuakwa North, Mr J. B. Danquah-Adu, had to personally finance the extension of electricity to the village.
In addition, the MP gave out 60 cutlasses to the adults and promised to follow up with additional supplies to make it possible for all the inhabitants to continue with their farming activities, which is the mainstay in the area.
The transformer which serves the villageInaugurating the facility in the village at the weekend, Mr Danquah-Adu said it was unfortunate for the people in the community to be denied the basic necessities of life just because they were few.
'It is sad for a community to be left out in the sharing of the national cake and that is why I have decided to ensure that you also benefit from the cake', Mr Danquah-Adu stated.
Mr Neku Okantey, the Odikro of the village, the New Patriotic Party Abuakwa North Constituency Chairman, Mr Douglas Asare, and the assembly member, Mr Ebenezer Kissi, were all grateful to the MP for his assistance which to them would boost the economic activity in the village which would ultimately bring improvement in the living conditions of the people.
WO1 (rtd) Nelson Avedzi of String Electricals, which worked on the power extension project, offered to be available at all times to assist the villages on any aspect of the installation.
By A. Kofoya-Tetteh/Daily Graphic/Ghana