NPP women's wing gather at party HQ to pray for Sir John, Adorye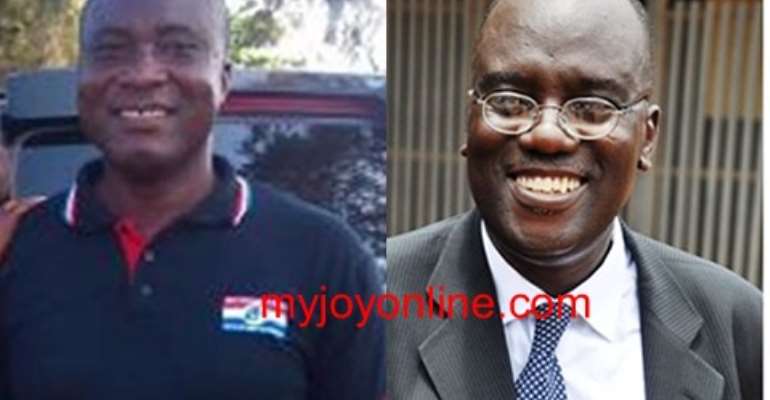 The women's wing of the opposition New Patriotic Party (NPP) have gathered at the party headquarters to pray for the party's General Secretary and one of their communicators, who have been summoned by the Supreme Court judges.
The mass prayers by the NPP women is one of several events being held by the party supporters in solidarity with its General Secretary Kwadwo Owusu Afriyie and party communications team member, Hopeson Adorye, who have been asked to appear before the Court over contemptuous comments.
In the Ashanti region, party executives will later Tuesday hold a vigil but the police there say they haven't been officially informed.
However, Police Public Relations Officer of the region, ASP Mohamed Yusif Tanko, said they are prepared to offer protection for the vigil.
In the central region, a similar vigil has been planned for Tuesday evening.
Meanwhile the National Executives of the NPP say they are in full support of all the planned gatherings.
At the party Headquarters in Accra, some of the women who spoke to Joy News pleaded with the Judges to have mercy on the two party stalwarts who have been summoned to appear before the Supreme Court on Wednesday August 14.
"The Bible tells us that they that put their trust onto the Lord, they shall never fail...so we know that God will do it..they [NPP executives] should put their trust in the Lord", one of the women who have converged at the headquarters for the prayers said.
Also, party executives have been dismissing fears that the numerous events being held across the country in solidarity with the Kwadwo Owusu-Afrieyie and Hopeson Adorye, could heighten tension.
NPP Youth Organiser, Anthony Karbo told Joy News/b> though there are some minor apprehension within the party, they are confident events will turn out for good.
Kwadwo Owusu-Afriyie, Anthony Karbo notes, is a very important personality within the party, saying his importance to the rank and file of the party is the reason for the numerous solidarity events across the county.
Kwadwo Owusu-Afriyie, popularly known as Sir John, and Hopeson Adorye, have been formally summoned to appear before the Supreme Court on August 14, 2013 to answer contempt charges.
The summons, dated August 9, 2013 and jointly signed by the presiding judge of the nine-member panel hearing the presidential election petition, Justice William Atuguba, and James Mensah, registrar of the Supreme Court, are asking the two to show why they "should not to be committed to prison for contempt of this court for scandalising the court, lowering the authority and credibility of this court in the eyes of the general public and exciting hatred and ill-will towards the first and second respondents herein".