Keita set to be new Mali president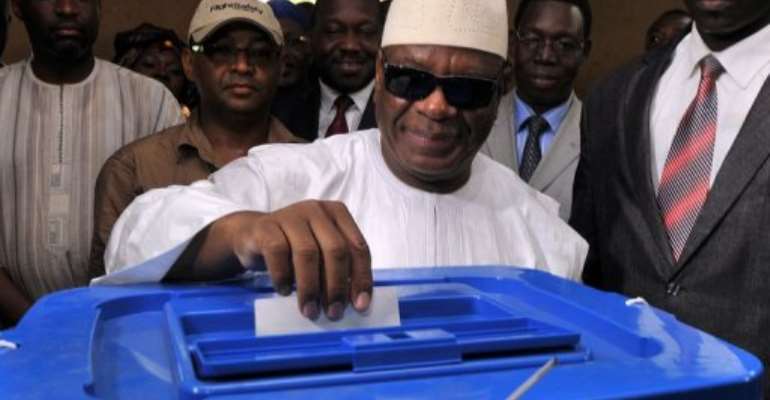 BAMAKO (AFP) - Mali's former prime minister Ibrahim Boubacar Keita was set for victory in the presidential election runoff after his rival conceded defeat, and now faces a daunting task of rebuilding a country reeling from more than a year of turmoil including a military coup and war.
Electoral and security sources said Keita -- widely known as IBK -- had pulled ahead with two-thirds of votes counted after Sunday's second-round vote.
Although official results have not been announced, Keita's rival Soumaila Cisse conceded defeat Monday.
"I went to see him to congratulate him and wish him good luck for Mali," Cisse told AFP.
Mali's first election since 2007 was seen as crucial for unlocking more than $4 billion (three billion euros) in aid promised by international donors who halted contributions in the wake of last year's coup that ignited an Islamist insurgency and a French military offensive.
The government has until Friday to make public the result of the run-off, called after none of the 27 candidates in the first round on July 28 secured an outright majority.
But a source close to Mali's election commission told AFP that "with nearly two-thirds of the ballots counted, IBK is well ahead".
Unofficial estimates obtained by AFP from Malian security sources also put Keita, 68, comfortably in the lead.
Keita has become known for his blunt speech, his refusal to compromise and his reputation for toughness.
During his campaign, he vowed to unify Mali if elected.
"For Mali's honour, I will bring peace and security. I will revive dialogue between all the sons of our nation and I will gather our people around the values that have built our history: dignity, integrity, courage and hard work," he has said.
The European Union's election observation mission gave a positive assessment of the vote, saying it complied with international standards in "99 percent" of Mali's polling stations.
"Whoever is elected will be elected with democratic legitimacy. That is my belief," mission chief Louis Michel told reporters in Bamako, adding that there had been "a leap forward in terms of democracy in this country".
European Union foreign policy chief Catherine Ashton welcomed what she called "a credible and transparent" election, according to a statement from her office.
Ashton pledged EU support for efforts to "build a durable peace and restore national unity" in the west African country.
Keita and Cisse, 63, lost out in 2002 to Amadou Toumani Toure, who was overthrown by a military junta in March last year just weeks before the end of his final term in office.
The return to democratic rule will allow France to withdraw most of the 4,500 troops it sent to Mali in January to oust Al-Qaeda-linked extremists who had occupied the north in the chaos that followed the coup.
The country of more than 14 million remains the continent's third-largest gold producer, but its $10.6 billion economy contracted by 1.2 percent last year. Widespread poverty has contributed to unrest in the north, with several armed groups vying for control in the vacuum left when the Islamists fled.
The region is home predominantly to lighter-skinned Tuareg and Arab populations who accuse the sub-Saharan ethnic groups that live in the more populous and prosperous south of marginalising them.
A UN peacekeeping mission integrating more than 6,000 African soldiers was charged with ensuring security on Sunday and in the months after the election. By the end of the year it will have grown to 11,200 troops and 1,400 police.
The United States meanwhile signalled that it was prepared to resume aid to Mali following the election.
Marie Harf, deputy spokeswoman at the State Department, hailed Mali's interim government for "securing a peaceful and orderly environment in which Malians were able to vote".
"We've made clear that following the return of a democratically elected government, we will seek to normalize our foreign assistance to Mali," she told reporters in Washington.
The United States was legally forced to suspend military aid to Mali after the coup in March last year.