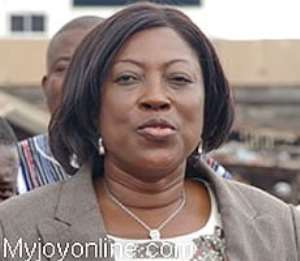 Transport Minister Dzifa Ativor
Government has denied reports it is transferring the management of PSC Tema Shipyard to Tullow Oil.
A statement issued by the Information and Media Relations Ministry said Tullow has rather proposed to build components of its second FPSO in the Shipyard.
Read the statement below
Management of PSC Tema Shipyard won't be transferred to Tullow
 
The Ministry of Transport has denied a Daily Graphic report of August 06, 2013 that government intends to hand over the management of the PSC Tema
Shipyard to Tullow Oil Ghana Limited.
 
"There is no arrangement with Tullow Oil to take over part of the PSC Shipyard on a  build, operate and transfer (BOT) as published by the Daily
Graphic", a statement signed by Minister for Transport, Mrs. Dzifa Attivor stated.
 
The Ministry explained in the statement that Tullow has rather proposed and
is in discussions with government to build components of its second FPSO in the Tema PSC Shipyard instead of building these at a foreign facility.
 
"Tullow will therefore upgrade the Shipyard to a level necessary for the fabrication of the components. Tullow ill further help with equipment upgrade and technological transfer, but will have nothing doing with the
management of the Shipyard.
 
This decision is informed by the Mahama administration's insistence on certain local content requirements for companies in our oil sector", the statement added.
 
The Tema PSC Shipyard, which is now a 100% state-­‐owned facility, is in a
general state of disrepair  and  requires  some  upgrade  in  both equipment and human resource to meet the standards required for the expected works on
the FPSO.
 
According to Mrs. Attivor, Tullow Oil, per the discussions with government
has been asked to solely pre-­‐finance the upgrading works at the
Shipyard to meet the standards of a modern and international ship building
yard.
 
"The works include the upgrading of infrastructure, plant, machinery and equipment to ensure that the Shipyard is well equipped and capable of handling all jobs, including the works envisaged by Tullow."
 
The Minister for Transport noted that after the upgrading works, Tullow Oil,
would like any other client apply to the Shipyard for the use of its facilities.
The Shipyard will therefore continue to be under its own management and not under Tullow, with Tullow treated as a client.
 
The statement noted that under the stated agreement to be finalized with Tullow, there would be no costs to government for the upgrading works.
 
Tullow will pay the Shipyard for the use of the facility to build the FPSO,
out of which the upgrading costs will be subtracted, and above all, "jobs
would be created and the required expertise  needed to handle shipyard work  acquire and enhanced through the training exercise."
 
The statement further noted that the discussions with Tullow when finalized
would help in positioning the Shipyard to meet the growth in the maritime
industry.