LEAP beneficiaries in 19 districts paid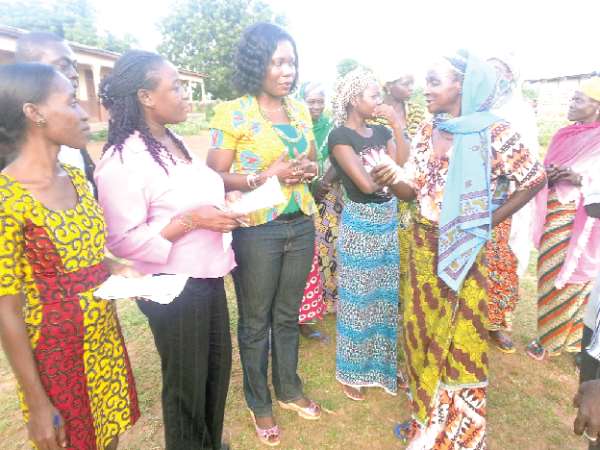 The Ministry of Gender, Children and Social Protection (MoGCSP) has disbursed GH¢786,876 to beneficiaries of the Livelihood Empowerment Against Poverty (LEAP) programme in 19 districts in the Northern Region.
The payment was arrears for the LEAP beneficiary households for November and December, 2012.
In all, 11,497 households, which included vulnerable men, women and children, benefited from the disbursement.
A deputy minister of the MoGCSP, Ms Rachael Florence Appoh, who supervised the distribution in some of the beneficiary districts, said the money was aimed at alleviating poverty among some of the poorest and most vulnerable people in society.
The deputy minister visited Tunayili, Woribogu Kukuo and Dingoni in the Tolon District; Nalerigu, the Gambaga witch camp, Zarantinga and Namasim in East Mamprusi and Savelugu, Zaazi and Behinayila in Savelugu-Nanton.
 
Payment to beneficiary households
In East Gonja, 786 households benefited from GH¢47,040; at Kpandai, 404 households shared GH¢34,788, while at Gushiegu 709 households shared GH¢67,968.
Again, in West Gonja GH¢43,962 was distributed among 746 households; in Saboba GH¢65,304 was distributed among 941 households, while in Karaga GH¢40,266 was distributed to 718 households.
In East Mamprusi 759 households received GH¢45,138; in West Mamprusi GH¢37,848 was distributed to 698 households; in Chereponi 913 households received  GH¢53,640, while in Tolon Kumbungu 785 households received GH¢51,324.
 
Other vulnerable beneficiaries
Other beneficiaries were in Yendi, where 294 beneficiaries received GH¢17,046; Nanumba South, where 286 households were given GH¢17,106; Zabzugu/Tatale, where GH¢91,938 was disbursed among 1,059 households, and Bunkpurugu/Yoyoo, where 270 households received GH¢16,212.
In Nanumba North, 253 beneficiaries received GH¢14,928; 253 households in Central Gonja received GH¢17,904, while 262 households in Savelegu Nanton received GH¢15,342.
In Bole, 802 vulnerable households received GH¢71,898, while in Sawla-Tuna-Kalba GH¢37,224 went to 578 households.