Aburi Girls old students support alma mater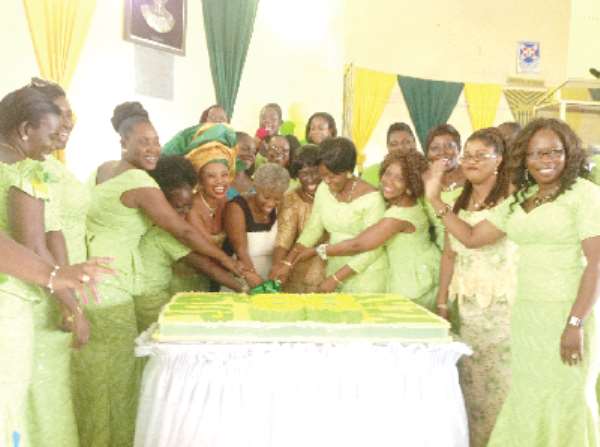 The Headmistress of the Aburi Girls' Senior High School, Ms Rosemond Bampo, has commended the old girls association for their goodwill and dedication to the school.
Such goodwill and dedication, she said, had created a strong partnership between the school and the old girls.
'The partnership between the school and the old girls association is getting stronger and stronger and this is visibly evident in the manner in which the 1988 year group had helped approach the preparations towards the school's speech and prize-giving days,' she stated.
Speaking at the school's 67th Speech and Prize-giving Day last Saturday, Ms Bampo stated that 'I am proud of the dynamic ladies of the 1988 year group and many others for showing goodwill and support to our school, making it one of the best'.
The event, held on the theme: 'Preparing a young woman for life: Opportunities and challenges', was sponsored by the 1988 year group which also funded the renovation of the school's kitchen and pantry and provided it with modern kitchen equipment.
The headmistress pointed out that the year groups were so committed to the school that some of the groups had already 'started enquiring about what project they can undertake for the school'.
'We have seen our dynamic girls committing their resources and time to the rapid development and growth of our school over the years and management is proud of them,' she stated.
On academic performance, Ms Bampo said the school in the last two years had scored 100 per cent passes in the West African Senior High Certificate Examination (WASSCE), and added that 'our aim for the very immediate future is to sustain our 100 per cent passes in the final examination'.
'More than 10 per cent of our students got 'A' in all the eight subjects,' she proudly stated.
On development, the headmistress was grateful to stakeholders, especially the Presbyterian Church of Ghana, for contributing in diverse ways to address pertinent challenges facing the school.
'We are profoundly thankful to the Chief Executive Officer of His Majesty Freight Services Limited, Mr Alexander Takyi-Mensah, for single-handedly funding the construction of a 20-seater water closet facility at a cost of GH¢71,201 for one of our houses,' Ms Bampo stated.
By Nana Konadu Agyeman/Daily Graphic/Ghana