Kwakwaduam Association Inc Of New York Awards 2013 College Scholarship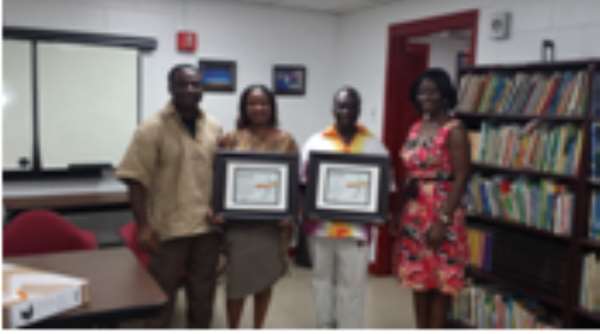 The Kwakwaduam Association Inc of New York has awarded 2013 College Scholarships to two of the children of Members who have qualified to go to College this fall. This is part of the Youth Empowerment program of the Organization
Kwakwaduam established the Ama Oforiwa College Scholarship Fund in memory of their first President. The award is to recognize deserving students who were going to University/College. This is the fifth year of such awards.
The recipients of this year's award are Kwasi Addo Koranteng who is going to New City College of Technology and Akua Fosu who is headed to Villanova University. Mr. Mark Saforo, President of Kwakwaduam congratulated the students and asked other kids to stay on course to go to College.
Dr. Kwame Aniapam Boafo indicated that there were several temptations and detractions that could prevent our kids pursuing higher education but quoted the old adage that the 'mind was a terrible thing to waste'
Picture shows the parents recipients receiving the award on behalf of the students as well as the President and Vice President of Kwakwaduam
Commenting on the awards, Dr. Samuel Abrokwah, said there was a profound need for parents to show significant interest in the education and progress of their children and that Kwakwaduam will support such efforts and the establishment of the Scholarship was in recognition of this.
At the same meeting, a lecture was given on 'Educational Opportunities that existed in the New York Educational System' by Mrs. Veronica Goka, a Principal. She indicated a need for parents to be vigilant on the educational needs of their children and be cognizant of the programs that existed in general and for 'gifted children' in particular.
She distributed brochures outlining the web sites of educational programs that existed in the New York Educational System. She cautioned against the tendency for parents to send their children back and forth to and from Ghana indicating that this stifled their educational progress.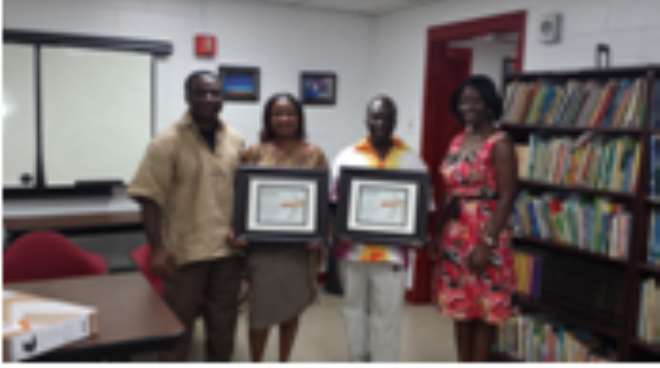 NEW PICTURE (6)