Ghost Votes On Pink Sheets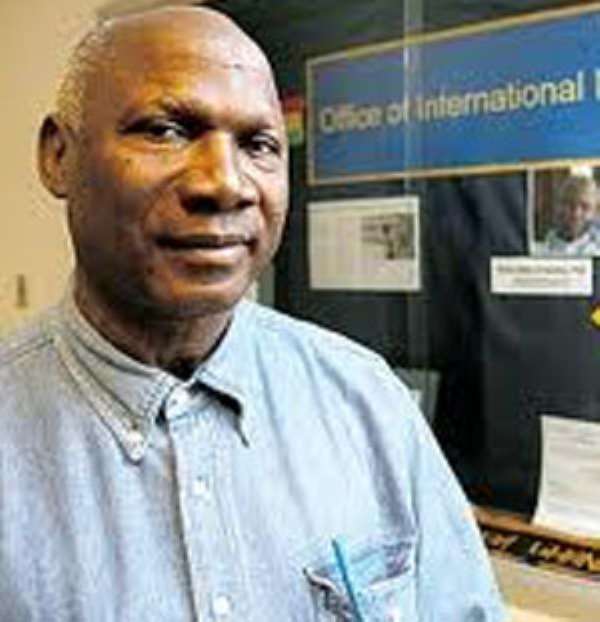 Kwasi Ansu-Kyeremeh
Today I am assuring all my compatriots that in this our motherland, in addition to ghost names, we now have ghost votes challenge. Ghost has little to do with fondness. It connotes fear in children.
The ghost is scary, paranormal, extra-human, abnormal, and bad. Children will usually say that to you. They will tremble in fear of the story of, or about, the ghost. Ghost votes, votes conjured having not to have been cast are thieved votes and undermine credible election results.
Ghostly numbers determined by names are more associated with payroll, registers and census. Our election woes began with a botched census count. Just yesterday, I learned a commission in Chile had caused the cancellation of that motherland's 2012 census results because ten per cent of the population was lost in the counting.
In our 'gyae ma enka' attitude towards public mistakes, we allowed a questionable census results to lead us into election temptation and election sin. Enumerators were supposed to visit all fihankras, fi-fas, kiosks, containers and whichever shelter my compatriots resided in so we could all be counted.
They found me not in one Adenta fihankra and found me not in my Atwima fihankra. That is what they said. I managed to find them, nevertheless. I found them at the latter. When I found them they told me that I wasn't there on census night so I couldn't be counted.
The practice of ghost names on payroll has been a massive challenge to judicious use of the consolidated fund in paying salaries. We very often talk about them in discussions that are not with pride but with a lot of lamentation and tribulation.
In our public services, we spend a lot of money on biometric registration in a bid to totally eliminate ghost names. I have not heard, seen, read or found anything anywhere that suggests that ghost names have been taken out of the numbers of public sector employees who are paid with tax money. We are yet to achieve ghost-name free payrolls.
Since there is no post-biometric registration verification whereby you are paid only when you physically get identified as in voting, I can bet the practice of ghost names on payroll is as much alive as when it began.
Just imagine that with voting, with all the finger and eye and sensor identification, recorded results as numbers can be manipulated not to reflect what has been verified. How much more with identification numbers that are faceless.
I could so well identify with the transposed numbers to favour someone. Yes, collated results totaling 17,000 (seventeen thousand) was entered as 7,000 (seven thousand) on a pink sheet with figure '1' and the 'teen' in words taken out.
Facelessness is an argument being peddled now by they who seem to have admitted to stealing an election by their words. They are saying my compatriots went to vote. The votes were counted and results were announced. So, pink sheets must not be allowed to change that.
They go on to add that for those actions, pink sheets don't matter. Pink sheets have nothing to do with results, they add. Anyone can produce any figures on pink sheets and present them as results.
Listen to yourself, I said to the lawyer of a president as he spoke those words. You say anyone could have put figures on a pink sheet. Everyone is saying that is what was done to get your client elected. It was done by using quadruplicate, triplicate, duplicate pink sheets with different vote numbers to cheat.
Many pink sheets with figures purported to be counted votes counted 1, 2, 3,… to the hearing and sight of all, used to announce the results, were unsigned in contravention of constitutional requirement.
Numbers that are ghostly fraught, are about counting heads. If you say numbers, as in votes, can only be recognized if they have faces, then next time after counting at the polling station we would all move to the collation centre, then to the district EC office, then to the regional EC office and then all of us finally to the strong room.
This must be so because that is the only way I can be sure my vote was counted. That it is the same polling station count that is collated and that it is the same collated results that get added up at the strong room.
I have ruled out electronic voting for as long as we have vote stealers among us. Perhaps we would have to think about a biometric voting ballot paper on which would be captured the voters detailed bio which will come along with candidates.
In that format, you, I and all our compatriots would be able to retrieve our personalized ballot paper should pink sheets turn up in phantom votes.