Fishermen At War With Premix Boss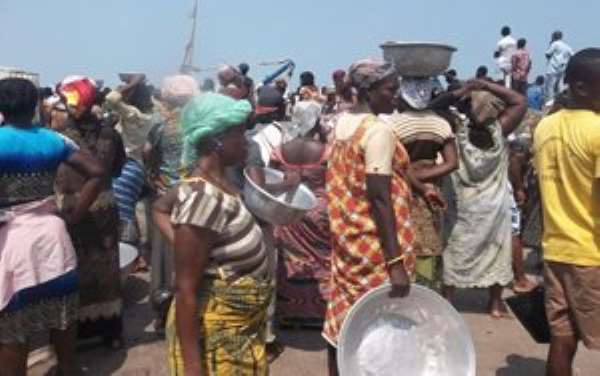 These fishmongers can't get fish to buy at the beach
The fishermen alleged that Mr Nicol's committee was made of people who knew nothing about fishing but managed to buy the fuel at an approved price and later re-sold the product to fishermen at exorbitant prices and later give a percentage of the proceeds to Mr Nicol.
According to the fishermen, members of Mr Nicol's committee in Sekondi also sometimes buy the pre-mix fuel and hoard the product for some time to sell at a later date, thereby creating artificial shortages in the area.
The Sekondi Chief Fisherman, Nana Kofi Essoun who made this startling revelation in an interview with DAILY GUIDE, lamented that several complaints had been made to the authorities concerned about the alleged behaviour of the premix national chairman, but to no avail.
'I think the authorities concerned should call the national premix committee chairman to order because what is happening is adversely affecting our business,' the chief fisherman stressed.
On the issue of the 20 percent increase in the prices of premix fuel by the government, the Sekondi Chief Fisherman explained that at a meeting with the various Landing Beach Committees, in some coastal communities, Mr Nicol announced an increment in premix fuel from GH¢2.48 per gallon to GH¢3 for the first time in four years.
He noted, however that, the fishermen came to a consensus to sell the product at GH¢3.50p and used the proceeds to undertake development projects in their areas.
He pointed out that fishermen in Sekondi did not have any problem with the new price for premix fuel but stressed that the government should ensure regular supply of fuel.
'Our problem now is that there is lack of consistency in the supply of the product and when it is finally supplied; middlemen bought it in bulk from suppliers and sell to fishermen at exorbitant prices,' he added.
He continued, "As we speak, most of the canoes are idle because for about one month, the Sekondi Landing site, one of the prime sites in the country, had not been supplied with fuel."
Meanwhile, a cross section of the fishermen at the Bosumtwi-Sam Fishing Habour in Sekondi described the 20 percent increase in the prices of premix fuel by the government as outrageous and indicated that the fishermen were left with no option than to pass on the repercussions onto the consumer.
'The shortage in pre-mix fuel is seriously affecting our business and the situation has translated into the price of fish in the market which has become relatively high,' one fisherman remarked.
They lamented that the shortage of the pre-mix fuel coupled with the exorbitant prices would hinder fishing and bring untold hardship on the people and appealed to the government to ensure the regular supply of the fuel.
From Emmanuel Opoku, Takoradi