Societe Generale Needs Further Boost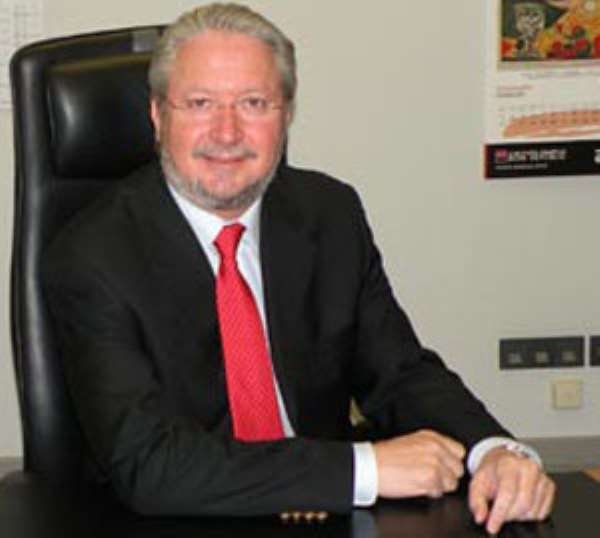 Gilbert Hie, SG-SSB MD
Though Societe-Generale Ghana's stock has exceeded a price of GH¢0.71, analysts believe that the stock is in need of a strong catalyst besides moderate earnings, a change of name and bullish market to realize its potential gains.
'Societe-Generale Ghana Limited has seen another wave of change with the renaming of the bank from SG-SSB. Significant as the renaming may seem, it may not be the much needed catalyst required to activate momentum for the stock on the market and to generate positive publicity in the eyes of the investor public,' Frontline Capital Advisors, stock analysts have indicated.
Analysts stated that the bank's stock has experienced some price appreciation since the year began.
'The bank's first half earnings was just a notch above average though the bottom line was significantly changed in relative terms.'
Gross revenue grew by a modest 14.8 percent on a year-on-year basis to GH¢82 million. Revenue was mainly driven by higher net interest income (up 28.7 percent) while non-interest income fell by 6.6 percent.
A year-on-year increase of 37 percent in impairment loss was matched by a 52 percent increase in the bank's loan portfolio. The bank has been quite resilient and robust in credit administration and loan recovery.
Relatively, lower operating expense (year-on-year) and current tax paid shot the bank to an impressive bottomline of GH¢15.96 million, representing a significant year-on-year increase of 51 percent.
The bank's total assets at the half year of this year was GH¢1.04 billion (up 12.3 percent) relative to a loan portfolio of GH¢639.9 million (up 52 percent). Total shareholder wealth inched up by 15.2 percent to close H1 at GH¢172 million.
Going forward, Societe Generale Ghana has the potential for appreciation both in terms of company growth and stock value. Innovation would be key to its revenue growth. Given a beta of 0.69 against the GSE-CI, the stock could break the GH¢1.0 mark by the full year though a catalyst would enhance the case.
By Samuel Boadi