Ga Mashie celebrates Homowo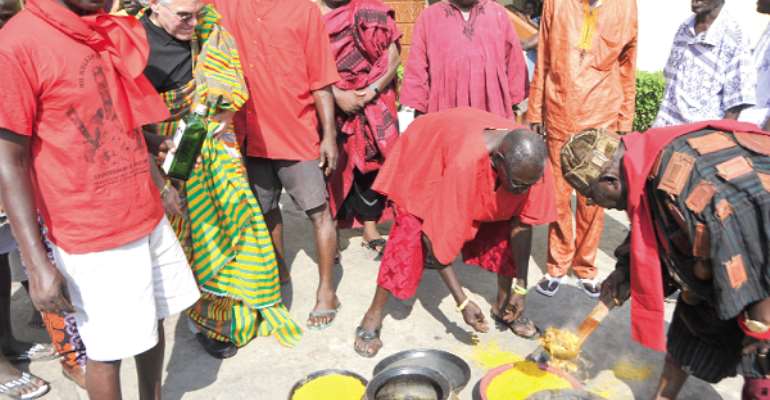 The chiefs and people of Ga Mashie in Accra celebrated their annual Homowo Festival at the weekend with the sprinkling of 'Kpoikpoi' amid the firing of musketry, dancing and general merrymaking.
'Kpoikpoi' is a traditional meal prepared with maize and palm oil which is fed to the ancestors on such occasions to thank them for a good harvest and also ask for their blessings.
It is the main meal for the celebration of Homowo, which means 'hooting at hunger'.
The festival serves as a reunion, as it brings together all family members from far and near to their ancestral homes to share in the traditional meal.
The festival also provides an avenue for the discussion of family issues and the settlement of disputes.
The Gbese Mantse and Adontehene of the Ga State, Nii Ayi-Bonte II, led a retinue of chiefs and elders to sprinkle 'Kpoikpoi' in the Ussher Fort and surrounding houses for the ancestors.
In a goodwill message, he appealed to all Gas to help in the development of the Ga State.
There was joy at the Akumajay Mantse's Palace and its surroundings as the Akumajay Mantse, Nii Ayikai II, sprinkled 'Kpoikpoi' for the ancestors and later danced with some of his elders and subjects.