Amicus Curiae Faults Election Petition Counsels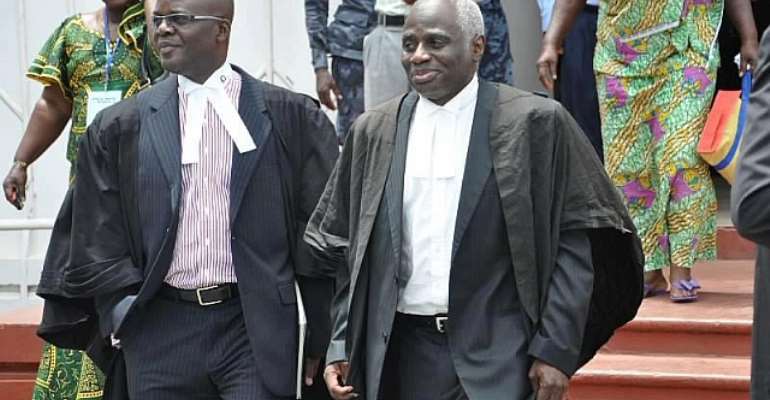 Benony Tony Amekudze, the lawyer who made his name with 'Amicus Curiae' (friend of court), says he is disappointed in the counsels leading the election petition at the Supreme Court.
According to him, all the counsels failed to perfectly articulate their addresses, adding that was the reason why the court has requested for their presence again on August 14.
Amicus Curiae, to wit, the 'Friend of the Court', made the headlines on Tuesday, May 28 when he stormed the Supreme Court apparently full of suggestions for it, and ended up intriguing everyone.
Speaking on Peace FM's The Platform, the now popular lawyer said the oral performance of the touted counsels was way below satisfaction and could not help judgment, adding, the court will on the next appearance teach the counsels how to give oral address.
According to the learned friend, the counsels for the three parties in the petition should have used the legal quotations to buttress their points but they all just narrated it without any legality in their submissions.
Lawyer Amekudze illustrated that, he was expecting the counsels to cite the articles in their submissions. This he said would have made their addresses more compelling and prop their claims.
According to him, the petitioners and respondent Counsel did not deliver their addresses to his expectation.
'If I can assess them, they didn't do anything and the Court will teach them on the 14th of August, 2013'.
He said his assertions will be made laudable by the Supreme Court and then he will be vindicated.
But 'Amicus Curiae' did not go scot-free, as a lot of callers bashed him for his claims.
He was accused of courting with President Mahama and his team, since he Lawyer Amekudze appeared in Supreme Court sometime ago to plead against the case involving President Mahama, saying a sitting President could not be summoned to court.
For this reason, many callers on the programme accused him of taking sides with the President in the election petition case.
The host of the programme, Nana Yaw Kesse, also received a fair share of the criticism. He was accused of inviting a biased and prejudiced guest instead of a neutral expert on the show.