Hello His excellency President Mahama!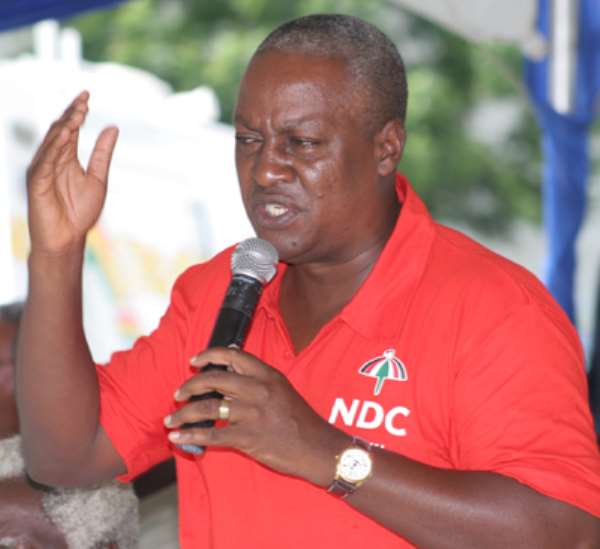 Mr. President true leaders are born and as a leader, you must be close enough to relate with others, and far enough ahead to motivate them. Few things in life are more discouraging than being blind sighted; I am not referring to a physical blindness, but blindness to see opportunities, failing to anticipate evil and especially when someone who could have helped you stands by and watches it happens.
You have the ability to prepare others for what they are going to face. Don't be one of those people who enjoy seeing others messing up so that you could say, ''I knew this would have happen''. Many parents requests for chancellors to mentor their children who have been selected to go to the University and other higher institutions of learning. They are cognizant of the power that their advice carries. It is the same with you.
As a leader of this our great nation, I have a plan that I will like to share with you. It is plan that involves the calculation of things you have observed, whether spiritually or physically. I am in a position to see things from a better perspective; I call it the duty perspective. A leader is one who sees more than others see; who sees further than other seeing; and who sees before others do. I am suggesting to you the importance of casting a vision for our future as a nation and for others so that they are encouraged to grow.
The next step is to fashion a new pace and a new order of activities by guiding us to our destination in a more concrete way. Mr. President, you have to help others discover their dream, and help them to move toward it. Without movement, there is no navigation. Mr. President, I encourage you to always keep in mind that the onward movement will only be progress if it is in the direction of the destination. It doesn't matter if you were in the wrong path and now you are leaving that behind and turning back. I have discovered that If you are leading/assisting others, you have to discover what moves them; what they cry about; what do they sing about; in the long run people will focus on what gives them joy; look for enthusiasms in the people; What do they dream about? Napoleon Hill once said, 'Cherish your visions and your dreams as though they were children of your soul, the blueprints of your ultimate achievements.'
Mr. President, let me tell you something, it's only on the ground you see conflict and crowds, traffic jams, but in the air, There is so much freedom in the air, no traffic jams. Birds do not crash into each other in the air. I pray you get this revelation easily. By the end of this year or the next 4 years, where have you planned to lead this our great nation to? One of the greatest things you can do as a leader of this our great nation is to think ahead for us. As a teacher/ parent/friend/mentor of others, you have probably been at places a lot of people have not yet gone, experienced a lot that people have not yet been through; gained insights they have not yet developed. I hope you understand clearly former president Rawlings/Kufour were once leaders of this great nation of ours. Mr. President, Your life is not a game but it ought to be more like chess than monopoly, learn to think ahead, see the next 6 steps/moves you have to make before you make them. Your presidency should not be like tossing dice. Mr.President, Think twice, Think fast, And think ahead for ideas are no one's monopoly. Long live Ghana!!!!.
Editor's Note:
Ibrahim Hardi,
[email protected]
0208235615