Ashanti: GGBL commissions 65,000 litre capacity waterhealth centre for residents of Domeabra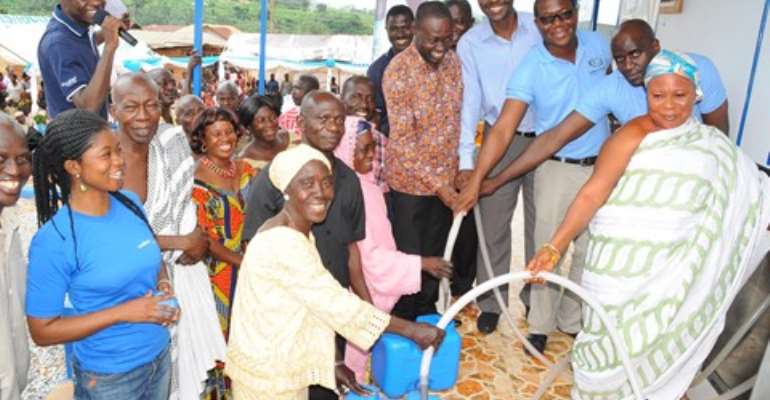 Ghana's only total beverage business Guinness Ghana Breweries Ltd (GGBL) on Wednesday 07 August commissioned a 65,000 litres Waterhealth centre for residents of Domeabra in the Ahafo Ano constituency of the Ashanti region.
The GHC 160,000 Centre was funded by GGBL and the Diageo Foundation (the foundation of its parent company Diageo plc) and is set to sustainably provide the water for over 4,500 people in the community.
The Centre was commissioned with the support of the Member of Parliament for Ahafo Ano Adu Johnson,and Nana Abrasor Amponsah, Queen Mother of Domeabra.
In a speech read on her behalf, the Corporate Relations Director of GGBL, Preba Greenstreet said "access to safe drinking water is fundamental to the socio-economic development, health and well-being of every community.
The Domeabra waterhealth centre is the eighth of such facilities GGBL has funded over the last two years in communities across Ghana. Apart from providing beneficiary communities with portable water, it is also creating employment for local residents, promoting health and well-being and supporting the United Nation's Millennium Development Goal (MDG 7) on water and sanitation.
On his part, MP Adu Johnson lauded GGBL for choosing to invest in the community and tasked the leadership and members of the community to take ownership of, and protect the facility.
"On behalf of the leadership and people of this community, I want to extend our profound gratitude to GGBL for investing in Domeabra in such an impactful way. With the opening of this centre, community members will no longer rely on streams and boreholes for their drinking water needs, they now have a sustainable source of clean drinking water and it is our expectation that this will contribute significantly to improving the health and well-being of community members".
The ceremony was also attended by the District Chief Executive of AhafoAno South, Mr. Gabriel Barimah and officials from the District Assembly.