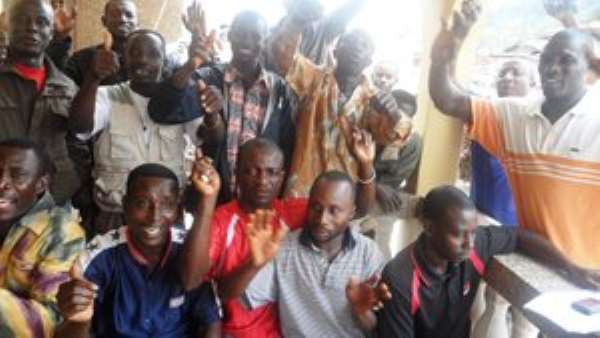 The NDC youth at the press conference
While regional executives of the National Democratic Congress (NDC) in the Ashanti Region appear to be in support of the President's nominees, the youth of the party and some locals are against them.
Those who oppose the nominations have cautioned President Mahama to listen to the constituents.
The violent protests against the nomination of MMDCEs show that Ghanaians are increasingly getting fed up with the democratic dispensation.
At a press conference at Agogo on Monday, the NDC youth in the Asante Akim North Constituency expressed their displeasure against the Mahama administration.
The youth, made up of constituency executive members, branch chairmen, assembly members and concerned citizens, said it appears government does not represent the governed, as they are losing faith in the President's nominees.
Spokesperson of the youth, Kwadwo Darko, who doubles as NDC Youth Vice Chairman for the constituency, stated that Paul Awe Avalu, the President's nominee, had been rejected twice by the Assembly members.
According to the NDC youth, any attempt to renominate Awe Avalu for the third time for the post of DCE for Asante Akim North District would be fiercely resisted.
The youth alleged that the former DCE treated party members with contempt and showed gross disrespect to the constituents during his tenure in office.
They appealed to President Mahama to bring back Thomas Osei-Bonsu, who they claimed served their interest and that of the party in the area.
'Osei-Bonsu has some unique qualities that attract people both within and outside the party,' the youth indicated.
They stated that the NDC benefited from the mass defection of NPP members in the past.
The NDC youth also catalogued the achievements of Mr Osei-Bonsu in the district.
 From Ernest Kofi Adu, Kumasi