Student, 20, is scalped and suffers bleed on the brain after 300-year-old tree falls on him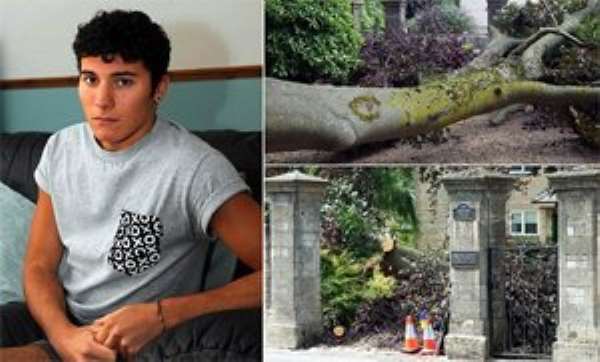 Injured: Student Nick Boulton, 20, was hospitalised after a falling 300-year-old tree fell on his head
A student has suffered a bleed on the brain and seizure after being scalped by a falling 300-year-old tree.
Nick Boulton, 20, is recovering after the incident left him in need of 16 staples and five stitches to the head.
He had been walking back from a friend's barbeque on the night of Friday July 26 when a large part of the stem of a copper beech tree collapsed on him.
Following the incident, in Cirencester, Gloucestershire, Mr Boulton suffered a bleed on the brain and a seizure.
'I don't really remember much of what happened,' he said.
'The tree must've fell down pretty fast - I just remember waking up and the tree being on top of me.'
He added: 'There were loads of police but I don't really remember that.
'At the time I just thought that I had cut my head open.'
After two days in Great Western Hospital, Swindon, Mr Boulton suffered a seizure as a result of having a bleed on the brain.
But the Sheffield Hallam student is now hoping to return to his normal life.
'I haven't really been out of the house since it happened, just for a walk around the block,' he said.
'Hopefully I'll be going back to uni in September… it just depends on whether I have another seizure or not.'
The tree is now in the process of being felled after it was found to be suffering from severe internal decay.
Cirencester tree surgeon Paul Ponting, who was called to the incident, said: 'When we arrived we were told that the man only had minor damage, but there looked like there was a lot of blood in the road.'
The stem of the beech tree gave way as a result of years of substantial internal decay.
Mr Ponting said there are other parts of the tree that are at risk of falling off and possibly injuring another person.
Dailymail