Kenyatta, KDF: ICC Acknowledges Charges Of Massacre In Somalia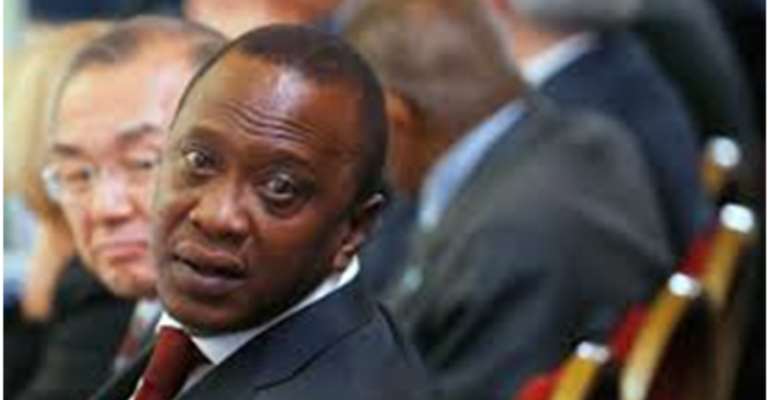 Somali Rights has received a formal letter of acknowledgement from the International Criminal Court at the Hague. The letter confirms that the ICC has received the formal complaint letter and supporting documents submitted by Somali Rights last month.
The complaint requests the court to investigate and prosecute crimes against humanity and war crimes committed by Kenyan forces and allied clan militia in Lower Jubba and Gedo regions of Somalia. In response, M.P. Dillon, Head of Information and Evidence Unit at the Office of the prosecutor of the International Criminal Court wrote 'The communication has been duly entered in the Communications Register of the office and we will give consideration to the complaint in accordance with the Rome Statute of the International Criminal Court.'
Somali Rights filed the complaint last month at the International Criminal Court (ICC) at the Hague, Netherlands against Kenyan military leaders including their Commander Uhuru Kenyatta for charges of war crimes and crimes against humanity including torture, massacre, illegal use of excessive force, rape, destruction of property, and displacement of civilians.
The suit comes at a time when the President of Kenya Uhuru Kenyatta and his deputy already face crimes against humanity for their role in killing hundreds of their own Kenyan citizens. The new criminal investigations are expected to be expedited to combine Mr. Kenyatta's upcoming trial with the charges for atrocities in Somalia.
The United Nations Security Council has recently implicated Kenyan Defense Forces in Somalia of crimes against humanity such as massacre, sexual violence, and torture in contradiction of international humanitarian and human rights laws and disregarding the UN Security Council ban on charcoal exports thereby promoting an illegal trade that funds the activities of the terror group Al Shabab.
However, a recent communiqué from a meeting in Kampala of AMISOM troop contributing countries did not address the Kenyan atrocities and glaring human rights violations committed in Southern Somalia.
Somali Rights plans to submit a new dossier of evidence to the Office of the Prosecutor in the near future. The dozier includes evidence that links the charges of crimes against humanity that Mr. Kenyatta already faces at the International Criminal Court and newly filed charges of massacre, rape, pillage, destruction of property and ethnic cleansing in Lower Jubba region of Somalia.
The quest for justice will continue until perpetrators of crimes against humanity in Somalia are brought to the corridors of international justice.
Somali Rights
Washington, D.C., USA
www.somalirights.com
Editor's Note:
End Notes:
1. Acknowledgement of Charges against Kenyatta, KDF by ICC Prosecutor: http://www.scribd.com/doc/158608878/SR-Kenyatta-Charges-of-Crimes-Against-Humanity-in-Somalia-Accepted-International-Criminal-Court
2. Complaint to the International Criminal Court (Cover Letter: http://www.scribd.com/doc/157066494/Somali-Rights-ICC-Preliminary-Communication-against-Kenyan-Defense-Forces