Resolve differences with dialogue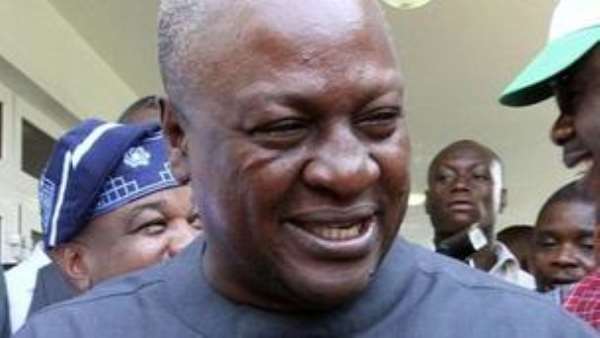 The people of Nkonya and Alavanyo have been urged to sustain the prevailing peace between the two communities.
President John Dramani Mahama, who made the call, said the time had come for the two communities to end the bloodshed and engage in dialogue to resolve their differences.
He made the call at separate meetings with the chiefs and people of the two communities at Nkonya and Alavanyo.
Following a renewal of the conflict in the area recently, President Mahama constituted a committee to mediate between the two communities to restore peace.
The mediation led to the signing of a peace declaration between the chiefs of the two communities a month ago.
President Mahama used his visit to the two communities yesterday to observe the peace situation, interact with the people and identify their development challenges.
He commended the chiefs and people of Nkonya and Alavanyo for maintaining the peace following the signing of the peace declaration.
He noted that neither the government nor the security agencies could effectively enforce peace in the area without the collaboration of the people on the ground, adding that the money that the government spent on the deployment of security personnel to ensure peace in the two communities could be used to develop the area.
The Chairman of the National Peace Council, the Most Rev Prof Emmanuel Asante, stressed the need for the two communities to end the conflict and engage in dialogue.
He said it was only in an atmosphere of peace that development could get to the area.
For his part, the President of the Volta Regional House of Chiefs, Togbe Afede XIV, reiterated the need for the people to co-exist peacefully.
The Paramount Chief of the Alavanyo Traditional Area, Togbega Tsedze-Atakora, said there had been inter-marriages between the two communities and, therefore, ''they cannot be separated'.'
''We are ready to make peace, and no sacrifice will be too big to make,'' he said.
Nana Ampem Darko III, a representative of the Paramount Chief of the Nkonya Traditional Area, admitted that war would not end the conflict and underlined the need for dialogue as the only thing that could bring peace between the two communities.
The decades-long land dispute between the two communities has claimed many lives and destroyed properties on both sides.
By Musah Yahaya Jafaru/Daily Graphic/Ghana