Mobile phone prices to go up following 20% import tax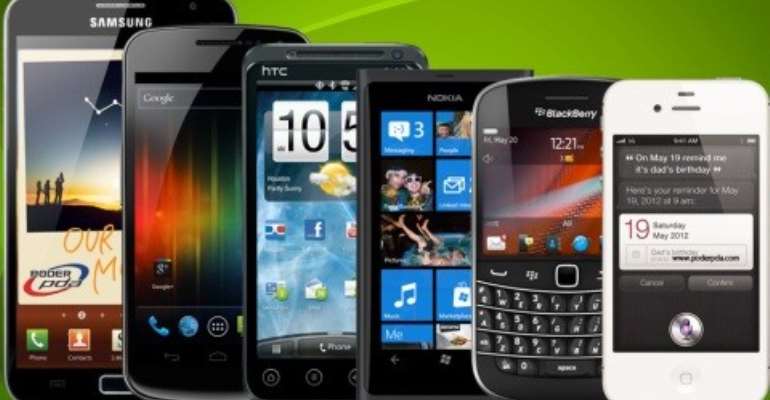 Mobile phone manufacturers who have operations in Ghana have hinted that they would increase the prices of mobile phones if government did not scrap the recently introduced 20% import tax on mobile handsets and accessories.
Representative of some of the manufacturers told ADOMBUSINESS in separate interviews they would not be able to absorb the tax on behalf of consumers so the handset prices will definitely go up once they start paying the tax.
The 20% import tax on phones and accessories was one of many recently introduced taxes in Ghana, which has incurred heavy public criticism.
What is special about the handsets import tax is that it used to be in force but was replaced with the 6% Communication Service Tax (CST), otherwise known as talk tax, which is borne by telecom service provide on behalf of customers. But this government has brought back the import tax not to replace the talk tax, but to add on to it.
Whereas the telecom operators agreed to absorb the talk tax on behalf of customers, the phone manufacturers and dealers have stated categorically they cannot absorb the 20% import tax in addition 15% VAT and other charges at the port.
Meanwhile, there are unconfirmed reports that amidst of protests, government had already instructed the relevant revenue agencies to start implement the 20% import tax from August 3, 2013.
Head of Hand-held Products for Samsung West Africa, Jaspreet Singh told ADOMBUSINESS "if the implementation has started we would have no choice than to pay but that would mean prices of our handsets will definitely go up soon because we cannot absorb the tax."
He explained that no player in the industry is making profit margins up to 35% so it would not make business sense to absorb 20% import tax in addition to 15% VAT.
Singh noted that the tax came unannounced and that was not fair to industry players because they would have expected government to consult them to discuss the implementation plan and how to prevent smuggling and other activities that could kill the industry before implementation.
"I hope government has devised a way to prevent smuggling because none of us the industry players are going to allow ourselves to be disadvantage," he said.
He also debunked allegations that Samsung planned to move out of Ghana, saying that there are long-term plans to establish an assembling plant within West Africa but the newly introduced import tax is not a factor in that plan because government did not give a hint it was coming.
Key Accounts Manager at TCT Ghana, importers of Alcatel phones, Robert Oduro also told ADOMBUSINESS government should have provide support for the industry players to bear the shocks before introducing the tax, "unless government wants to stifle the handset industry."
He noted that the tax would definitely affect the quantity of phones imported into the country and thereby affect supply, which would inadvertently increase the price of handsets and affect the ability of the telcos to subsidize handsets for their customers.
Oduro said the tax threatens to distort the budgets of the phone companies because it was announced at a time when every company had closed their budgets for the year.
"Does government want only one local handset company – RLG – to enjoy the market? RLG is already enjoying a lot of tax holidays and this attempt to kill all others in favour of RLG is not fair to Ghanaians," he said.
But Oduro is not alone on this issue about government attempt to protect RLG, as the Concerned Phone and Accessories Dealers of Ghana also stated at their press conference that the tax is designed to protect RLG, which imports phone components from China and assembles in Ghana.
Meanwhile, Huawei Ghana is also unhappy about the import tax, saying in an exclusive write up to ADOMBUSINESS that it had plans to be a market leader in the supply of quality and affordable smartphones but the import tax threatens to derail that commitment.
"Huawei has since last year introduced about five new and affordable smartphones in Ghana and was looking at launching a few more devices soon [but] with this tax on handsets, it is likely to increase the final market price of the devices," the write up said.
The company however gave assurance that because it is still committed to providing affordable smartphones, it may be compelled to build an assembling plant in Ghana in order to ensure that the prices of the devices are not affected by the 20 percent import tax.
"This is among the possible steps the company may take depending on the impact of this tax on our sales output," Huawei said.
Media and Publicity Manager at Tecno Ghana, Rev. J. K. Asante also told ADOMBUSINESS they have no choice than to increase prices for now, adding that currently the company is channeling a greater part of its efforts at establishing its own assembling plant in Ghana to serve the West African sub-region.
He is confident that the establishment of the assembling plant would help the company avoid the import tax and also provide jobs for Ghanaians.
Representatives of Nokia and Apple in Ghana declined comment when contacted, but the Concerned Phone and Accessories Dealers of Ghana have stated that a number of the phone manufacturers have hinted of plans to relocate to other countries to avoid the tax.
Meanwhile, the tax also threatens to derail the recent move by National Communication Authority (NCA) to encourage Nokia and Huawei in particular to bring more of their affordable smartphones into Ghana. It also threatens to stifle Apple's upcoming affordability campaign.