The Homosexual And Homosexual Orientations: What Pope Francis Said Is Nothing New Or Strange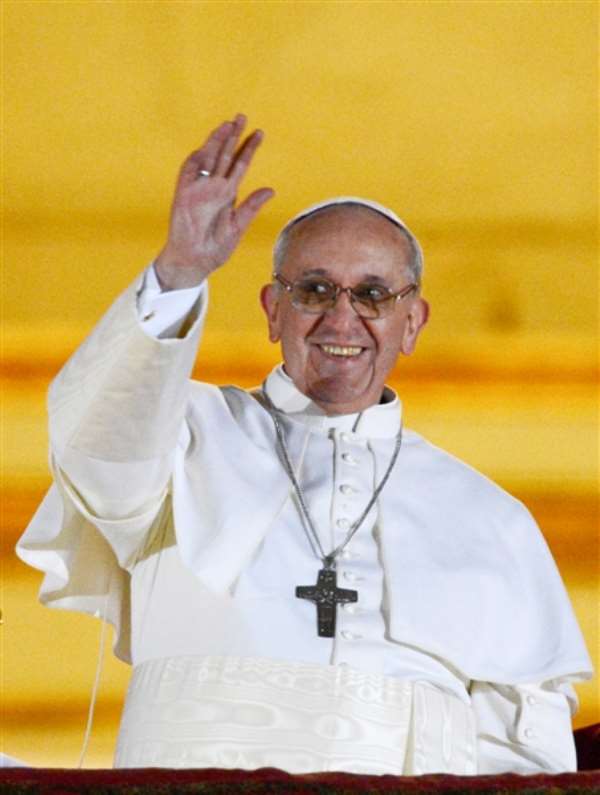 Pope Francis
Pope Francis, the Roman Pontiff who was recently elected into office and many predicted will change the first church to be seen as it is and should be, the assembly of God's people, was alleged to have made statements which some people believe is an attack against the Word of God.
The Pope was quoted as saying that it was not in his position to judge people on account of their sexuality, but that if someone was gay and was looking for the Lord, who was he to judge him? 'You should not discriminate against or marginalize these people and the Catechism says this as well.' The Pope was quoted by the international media.
Mr. Moses Foh-Amoaning, a legal man and a crusader against homosexuality was among many that condemned the Pope for what he said. In fact I enjoyed reading Foh-Amoaning and associated myself with this quote of his: May be in Europe the devil has found his way throughout but in Africa we will make a stand. In the Arab countries they have made a stand and trust me, if we are prayerful and we are strong we can beat this because on the cross of Calvary we won the victory.
If we need to have a few more of Foh-Amoanings around to fight off this sin of homosexuality.
However I guess he was too quick in attacking the Pope especially with quotes from the Bible. I wish to remind him that those quotes were against the sinful acts themselves and not the sinners. Let us go back to the Authority Himself, Jesus Christ. He was very lenient and accommodative to sinners who are repentant or want to reconcile with God. He was rather hash on those sinners who do not want to change their ways, hence his consistent lashing out at the Pharisees and the elders who not only sin but lead others to sin (St. Matthew 26: 13-36). The Jews had no compassion for sinners and treated them as objects to be discarded as filthy as the sins themselves.
If today we condemn the act of homosexuality must we condemn the homosexual in the same way as the Jews did? Was this how Jesus want us to treat sinners and for that matter ourselves, since we are all sinners? Mr. Foh-Amoaning is a lawyer and may have defended criminals, probably succeeded in freeing some when they should be condemned in prison cells. He supports and guides zealously the rights of condemned prisoners and here we are talking about murderers and armed robbers. He does all this because the Law mandates all to do that.
Now inasmuch as all sane minded people will condemn homosexuality, must we condemn the homosexual? Must we not accommodate them and find out their real problems and seek help for them, just as Jesus would do? Or must we 'hang' them and treat them as filth and outlaw them just as the Pharisees would have done?
Let us go back to the Authority Himself, Jesus Christ and read St. Luke 6: 29-32; St. Luke 7: 36-50 and the best of it all is found in St. John 8: 1-11. In this chapter, a woman found to have sinned was brought to Jesus to have her condemned to death as the Law required. Mind you here the woman did not asked for forgiveness of her sins neither did she come to Jesus voluntarily. Jesus only spoke to her accusers and here He did not challenge the accusation so He could be said to understand the Law on adultery. He only asked the accusers a harmless question. They ended up fleeing the scene. Jesus told the woman that since there was no one to condemn her, neither could he condemn her. She was forgiven her sins, meaning she did commit the sin she was accused of and supposedly many others as well. One important command was added: Go and Sin no more.
Pope Francis was clearly imitating Christ when he said who was he to judge a homosexual especially one who comes to God? Obviously that will mean he or she wants to repent, ask for forgiveness and stay clear of that road.
The authorities Foh:Amoaning quoted were attacks on the sins. If sinners were to be condemned and made outcast then where will the Church be? For we are all sinners and have our sins under lock and key: idolatry, adultery, fornication, fraud, greed, lying, stealing and what have you. We wish to be accepted with all these sins and yet like the Pharisees in St. John 8, we want the homosexuals to be outcast. This is not what Jesus Christ commanded us to do.
Pope Francis did not say anything new about the Catholic Church when he made those statements. In fact he has not approved homosexuality and would certainly not do so. If he approves of this act then the Church will certainly cease to exist as the Church of Christ since it will be preaching something alien to the mind of Jesus Christ who founded her. Either Pope Francis will abdicate or the over 2,000 years' existence of the Catholic Church would come to an end.
A practicing Catholic and minister of state, Hon Nana Oye Lithur made some statements advocating for the protection of the rights of homosexuals and might not have come out clearly so she was said to be supporting homosexuality. She stood for the rights of homosexuals and not in support of the act. This is the Catholic churches stance on this matter and any matter concerning sinners and sins.
Homosexuality is a disorder and must be cured. Catholic spirituality is playing its role in healing this disorder. The sources are things that can make someone to be a homosexual and these are homosexual orientations. I will quote from Richard Fitzgibbon M.D in my submission.
The most common conflicts at different life stages that predispose individuals to homosexual attractions and behavior are loneliness and sadness, mistrust and fear, profound feelings of inadequacy and a lack of self-acceptance, narcissism, excessive anger, sexual abuse in childhood and a lack of balance in one's life coupled with overwhelming feelings of responsibility. During times of stress these inner difficulties are activated. In an attempt to seek relief or to escape from this unconscious emotional pain, strong sexual temptations and behavior can occur. This dynamic of inner emotional suffering leading to homosexual desires and activity rarely can begin during childhood but usually it develops in early adolescence. However, adult life may be the first time for the emergence of this disorder.
Let me deal with a couple or two.
Sadness and loneliness: Children who are always on the receiving end of harsh and cruel criticism by their peers and ending up being rejected, would have powerful feelings of loneliness, sadness and isolation. Then the crave for acceptance and love from peers results in strong emotional attractions to those of the same sex, which could lead to homosexuality.
The collapse of the nuclear family with almost 40% of children and teenagers living apart from their fathers, result in serious problems with sadness and loneliness in the young. In his 'Letter to the Family', pope John Paul II described such youngsters as 'orphans living with parents'. When the need of warmt, approval, physical affection and praise from a father is not filled, emptiness develops referred to as 'father hunger'. In an attempt to overcome this pain some young adults seek comfort in being held by another male.
Another important cause of homosexual temptations and acting-out behavior is a result of strong feelings of insecurity. A lack of confidence may arise from rejection by parents, peers, siblings and other significant people in whom one wanted to invest trust. In an unconscious attempt to undo the earlier life rejection, a person may seek validation and acceptance from members of the same sex. This painful emotional conflict is seen much more frequently in males.
Fear of vulnerability to heterosexual relationships is another important factor in the development of homosexual attractions. This inability to feel safe loving someone of the opposite sex is usually unconscious and originates most often from traumatic experiences within the home. In males this may be a consequence of having a mother who was overly controlling, excessively needy or dependent, angry and critical, unaffectionate and cold, narcissistic and insensitive, very mistrustful, and addicted or ill. In females the fear of trusting males in a loving relationship may arise from having a father who was very angry, rejecting and distant, insensitive toward the mother, abusive, harsh, selfish, addicted, or unloving.
Mistrust can also develop as a result of living in a home with frequent conflict and fighting between parents.
Additive disorders, narcissisms, attempts to flee from excessive sense of responsibility, anger and sexual trauma in children can result in homosexual orientations in adulthood. With the sexual trauma in children, this is what Richard Fitzgibbons has to say: A number of males who were raped or sexually abused by older males in childhood develop confusion about their masculine identity. As with other victims of rape, they think that their behavior must have in some way led to the abuse. Such traumatic experiences can create self-hatred and the false belief that they must be homosexual. As adolescents, their relationship with girls is often undermined by their shame and the belief that no female could possibly love them if they knew of their sexual experiences.
It must added that some girls who get raped and sexually abused by older males will grow up wanting to have nothing to do with the males sex and most likely find comfort in the arms of another woman.
So with the realization of the courses of homosexual orientation, would anyone fault the Pope and the Catholic Church for stating that we must not condemn and outcast the homosexual? In fact Pope Francis said what Christ would have said as he showed compassion on the sinner.
For further readings on homosexual orientation and healing of homosexual orientations and behaviours , may read Richard Fitzgibbons in his research document entitled 'The Origins and Healing of Homosexual Orientations.
While Mr. Foh-Amoaning was at it I thought he should comment on what Bishop Desmond Tutu was alleged to have said. The famous man of God and equal rights campaigner was quoted to have said that he would prefer to be in hell than be in an anti-gay (anti-homosexual) heaven. Yes, he was alleged to have said that he would gladly choose to be in hell if it happens that homosexuals are not welcome in heaven. Is this really a man of God speaking? The Word of God says that God loathes sins and any sin of any form cannot be in His presence. All we have to do is to assist each other and keep away from sinning so that at our hour of death, Jesus will say to us, 'Come into my Father's Kingdom'