Burundi rebel resurfaces but police block rally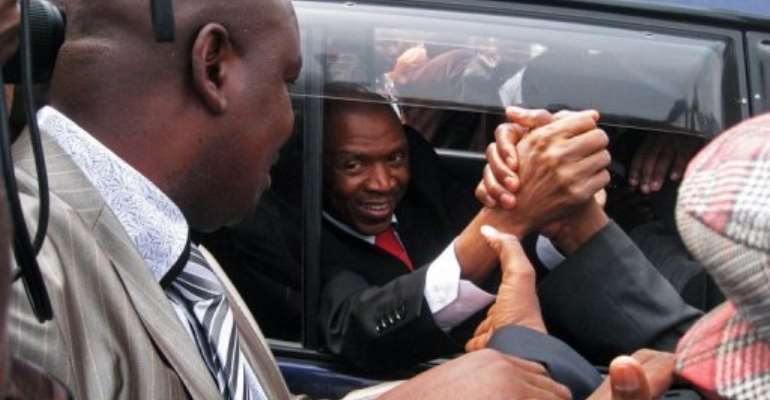 BUJUMBURA, Burundi (AFP) - Burundi's veteran rebel leader Agathon Rwasa resurfaced Tuesday after three years in the bush, but police stopped him from addressing a crowd of supporters who came to welcome him.
"Three years ago, in the wake of the dispute over the elections, I had to leave those close to me in order to save my skin," Rwasa told reporters at a villa in the capital Bujumbura.
"Today I'm ending my exile to answer the call to come home and lead the party."
Rwasa, dressed smartly in a navy blue suit and red tie, first appeared at a local community hall where supporters were celebrating his return, an AFP reporter said.
Several UN officials and foreign diplomats also gathered to see his return.
But dozens of police officers blocked Rwasa and turned him away, saying he did not have the necessary authorisation to hold a rally.
"The organisation of a rally is governed by the law. Mr Agathon Rwasa refused to accept that," said Godefroid Bizimana, second-in-command of Burundi's police, who turned out in person to supervise his men.
"That is why this meeting has been banned."
Police also blocked several roads leading into the capital to prevent hundreds of supporters from outside town joining celebrations, local officials said.
"The regime has -- yet again -- shown its dictatorial and intolerant nature," Rwasa's spokesman Aime Magera told journalists, saying the interior minister had been informed about the gathering a long time ago and had been invited to attend.
The 49-year-old ex-rebel leader once headed the National Liberation Forces (FNL), a guerrilla force that has since become a political party.
He fled after contested elections in 2010 that saw President Pierre Nkurunziza take the top job.
Rwasa says he spent the last three years in Burundi, but has been repeatedly reported in Democratic Republic of Congo, Tanzania and Zambia.
While Rwasa hopes to challenge Nkurunziza for the presidency in elections in two years' time, diplomats say he will face major hurdles, with a dire lack of cash and many of his supporters still in hiding.
He is also officially no longer head of the FNL, which is headed by a figure close to the ruling party.
"Like all Burundians who have come back home, Rwasa is welcome," said Burundi Interior Minister Edouard Nduwimana.
But he added that Rwasa is just "a citizen like any other" and as no longer official FNL head, he cannot hold political rallies.
"We have decided to ban the activity (the rally) to protect the FNL and to protect the law," Nduwimana added.
Once feared as a ruthless guerrilla commander, Rwasa said he wanted "the triumph of the democratic ideals of justice and peace."
Diplomatic sources said his return was negotiated by the international community, which continues to challenge the results of the 2010 election results.
Burundi has seen a series of attacks since the 2010 elections, but authorities dismiss suggestions they are rebels who have taken up arms again, and instead call them "armed bandits".