A child in th Northern, four times less likely to attend school- UNICEF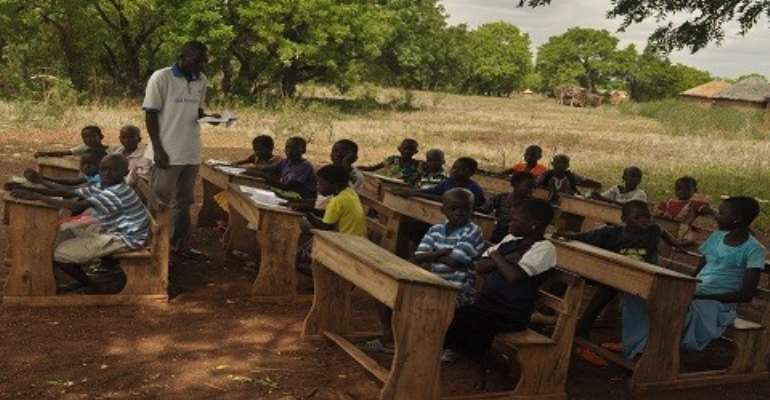 A child in the 3 northern regions is four times less likely to attend school than a child in the Ashanti region according to UNICEF.
UNICEF attributes this to limited or no access to schools in some villages in the North. Disabled children are also often denied access to school, due to their disability.
Fatawu Abubakari who is 13 has difficulty in walking. He wasn't schooling until he was 11 due to his disability. Fatawu was home for nearly 11 years, fostered by his grandfather after the death of his dad. She could not understand why his friends were schooling while he had to stay home.
" I am happy to be in school, because I can now achieve my dream of becoming a lawyer one day."
There is another story to tell.
It is the story of Adamu Ibrahim, who is 10 years old and has an eye defect. Adamu watched her younger siblings attend school for about 8 years.
"I was home picking shea nuts from the farm due to my disability."
She had to shield her dream of becoming a medical doctor, living with the fear it might never happen.
But thanks to a programme initiated by a local NGO called school for life with support from UNICEF, there is renewed hope for adamu Ibrahim and fatawu abubakar.
In 2011, the two were enrolled in the school for life programme
With this programme, pupils attend a 3 hour class, 5 days in a week, for 9 months. They are taken through the first three years of lower primary in a local language, after which they can continue in primary 4 in any school.
Fatau Abubakari and Adamu Ibrahim have enrolled in Diari EA primary school B in the Savelugu Nanton district of the northern region.
Headmaster of the school, Iddrissu Issah Wumpini is impressed with the output of the 2. Like Fatau and Adamu, pupils at Sana also in the Savelugu Nanton district, where there is no school are benefiting from the school for life programme.