'Tell Me Not What I Want To Hear But What The Actual Situation Is'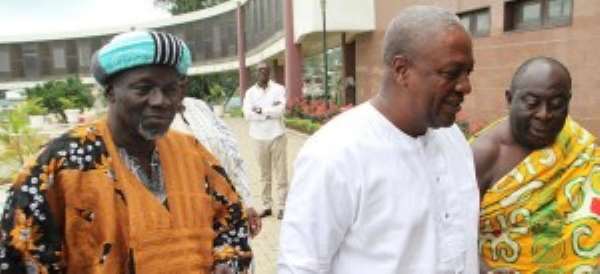 President John Mahama has once again appealed to the Members of the Council of State to be brunt and tell him not what he wants to hear but the actual situation on ground.
 
The president who was speaking in the first meeting with the council members in Accra on Saturday said telling him the truth would help to make the necessary corrections that will keep the ship of state on an even keel 'towards the destination that we want it to go.' The following is the full text of the president's address.
Our constitution drafters carved a special role for the Council of State based on tradition and usages that we have experienced in our own form of governance and it is based on the architecture of the fact that you have a chief or a king who is counselled by a council of elders.
It is said that many heads are better than one and so the general thinking of our constitution drafters is that in exercising the responsibilities of governance it was necessary for the president to have a council of eminent people who are roundly qualified in terms of their experience to give him counsel on the issues that come up in the course of governance.
At your inauguration, I asked that you tell me not what I want to hear but what the actual situation on the ground is because it will help to make the necessary corrections that will keep the ship of state on an even keel towards the destination that we want it to go.
We have had a turbulent first year. Normally you would have expected six months of at least of a honeymoon during which you can settle into governance.
Unfortunately that has not been the case with regards to this government and as the chairperson has said there have been issues of wage agitations, there have been issues of energy crisis; there have been issues of fires in the markets and several other things that have tended to affect governance and distract the attention of government. But I must say that we have remained focused and we have continued to do what we ought to do.
One of the major problems that confronted us was the energy crisis. We have been working round the clock and even though I will not say we are over the hill, at least conditions continue to improve on a day-to-day basis and we hope that we will put that unfortunate period behind us.
And we are putting in steps that will make sure that we never ever find ourselves in the situation in which we found ourselves.
The next important matter we have been dealing with is the economy. In presenting the budget we put all the figures out as truthfully as we could and even though the figures did not look good we thought that Ghanaians should know.
We are running a high deficit of 11.9% almost 12% and it was the result of several factors and we need to, going forward in our planning, make sure that those factors do not take us to a situation like that ever again.
In the wage negotiations we had lost a bit of control over the wage bill and so it continued to spiral until it was consuming more than its fair share of our resources and so what was left for the other parts economy was very little. Aside from that we should have the courage to adjust prices of strategic products at the right time.
We have taken a cue from that and that is why we look periodically at petroleum prices. We have left NPA do its job and to do its adjustments from time to time. It is much better to do those little adjustments than to wait for them to accumulate and inflict 20%, 30% increase of petroleum products on the population.
It has been the same with tariffs. The PURC has from time to time recommended tariff increases but government has chosen to absorb those increases on behalf of the population but there comes a time when there is a limit as to how much you can continue to absorb if you are not to throw the budget out of kilter.
And so in 2012 we absorbed a lot of the tariff increases, in 2012 we absorbed a lot of the petroleum increases to the extent that the combined sum of both in addition to increase wages were threatening to completely destroy the economy.
Government has in the first half of the year been taking measures to address these distortions to the economy in order to make the economy healthier and we have taken a cue from what we went through to make sure that we do not make those mistakes and bring the economy back to the kind of state in which it was.
Madam Chairperson and members of the council, you are tasked by the constitution to counsel me in the performance of my functions at my request or your own request. You can consider and make any recommendations on any matters being considered or dealt with by the presidency or any of our ministers or any MDA or state institution or even the private sector.
I will always value your wise counsel, guidance or suggestions. This is why our government accepted the recommendation that the Council of State be maintained as an advisory body to the president and I believe that it will continue to play a key role in the governance of our nation.
Madam Chairperson I now will wait in anticipation to hear what you and your eminent members have for me.
Thank you very much.