GMC Cries Over Bad Railway Lines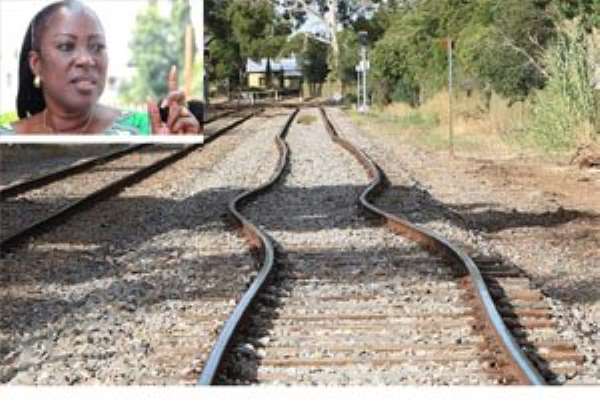 For how long will our railways continue to be in this state? INSET: Dzifa Attivor, Minister for Transport
The Ghana Manganese Company (GMC) says it is considering abandoning the use of railways in the transportation of its products to the country's ports since the deplorable state of the railways was negatively affecting its operations.
Ronald Schuurhuis, Financial Manager of GMC, who disclosed this to journalists recently at Tarkwa, called on government to expedite action on revamping the country's railway system to save mining companies.
He disclosed this during a three-day tour of mining areas at Tarkwa by members of the Journalists for Business Advocacy (JBA), which was organized by the Ghana Chamber of Mines.
GMC is willing to use the railways, which is cheaper if only it could be assured of a vibrant railway system, Mr. Schuurhuis said.
Transportation of heavy-duty load to mining concessions in Ghana's hinterland has contributed to the deterioration of most of the country's roads.
But such heavy loads are supposed to be transported via railways.
Government indicated plans to secure funds for the commencement of the rail project but nothing concrete has been achieved so far.
It indicated that it would use part of the Chinese Development Bank (CDB) loan to rehabilitate the rail line.
According to the Financial Manager, 70 percent of the manganese haulage was done by road while 30 percent was done by railway.
He said the rehabilitation of the railway networks would benefit other stakeholders like the bauxite companies and cement factories.
Last year, GMC achieved its target of 1.8 million tonnes of manganese for export.
'The issue of railway is not necessarily about cost analysis but also about safety. To get certain major equipment on site, we do that all by road. Perhaps we can do that by rail which is much safer and also cheaper. More railways should be extended to areas where mining companies are operating,' he added.
Ahmed Nantogmah, Director of Public Affairs and Environment at the Ghana Chamber of Mines stated: 'We haven't seen anything of that nature yet. We want Government to intervene in this sector. We hope that they will come because it is not going to only benefit Ghana Manganese Company but also cement, oil, tourism and even timber companies.'
The major problem with the railway system is over-aged equipment and staff, Mr. Nantogmah said.
'They want to lay them off and get a vibrant group to manage the sector but it is expensive because of the redundancy clause.'
Sauty Omar Timtey, Community and Public Relations Officer of GMC, added that government must privatize the railway system to ensure effective management.
'The construction of railways is a government obligation. We are to make our challenges known and also offer support in that direction. If GMC closes down today as a result of this challenge, you can imagine the number of workers who would be laid off and the effect on more households.'
GMC disclosed that it would soon mine gold in commercial quantities.
However, it is yet to complete its exploration process on promising areas within its 175-kilometre square concession at Tarkwa.
Mr. Timtey also complained about increasing cost levels, sustainability and encroachment of GMC's gold concession by 'galamsey' operators.
 By Mary Anane