Voltic (GH) renews partnership with Accra Psychiatric Hospital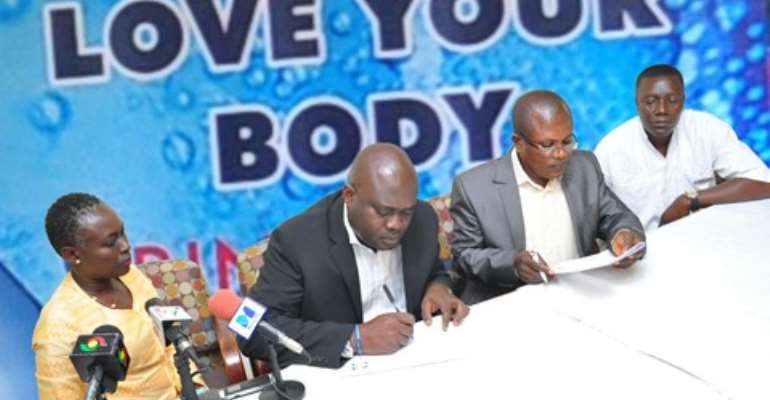 Voltic (GH) Limited, as part of its contribution towards the development and improvement of the lives of people in the communities they operate, has renewed its partnership with the Accra Psychiatric Hospital.
A two year Memorandum of Understanding (MOU) to provide the hospital with a monthly supply of ten (10) cases of Voltic Natural Mineral Water and thirty (30) bags of Voltic Cool Pac sachet water was entered under the new arrangement.
A previous one year MoU expired Thursday, July 31st, 2013 and based on the company's desire to continue its support to health institutions, it has extended this new MoU to cover a further two year period.
The Deputy Chief Health Service Administrator of the hospital, Mr. Peter Agyemang-Gyau and Mr. Nsiah Anyetei, Deputy Director of Nursing Services were both present to sign the MOU on the hospital's behalf whilst Mr. Michael Effah signed on behalf of Voltic (GH) Limited.

According to Mr. Agyemang-Gyau, "The supply of your products over the past year to the facility has improved our potable water situation. It also came as a major financial relief on monies spent on the procurement of potable water and above all, the quality of your products has immensely satisfied our consumption."
Mr. Effah also emphasized that, "We at Voltic (GH) Limited have committed ourselves to help improve the lives of people in our communities and we embrace this partnership with the Accra Psychiatric Hospital as another opportunity to exhibit this commitment. We are further pleased to note that our support over the past year has made a tremendous impact here. As a good corporate citizen, we have therefore decided to extend our support for a further two years".
The delegation from Voltic led by the Corporate and Legal Affair Director Ms. Adjoba Kyiamah, the Sales and Distribution Director, Mr. Michael Effah and the Corporate Affairs Manager, Mr. Cyrus deGraft-Johnson later visited some of the wards to interact with patients on admission there.
The Accra Psychiatric Hospital depends mainly on government funding. The hospital offers free treatment and feeding to thousands of needy patients.