Live Updates: The Kirk hour has come; Perez dome on 'holy ghost fire'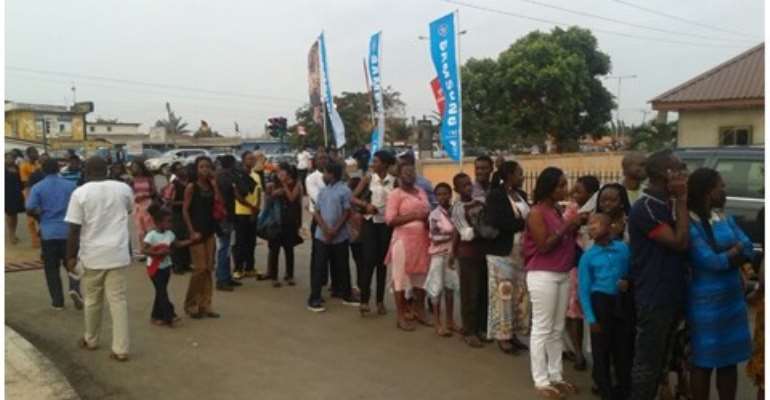 Ohemaa Mercy
The Edin Jesus singer has taken over the microphone and she is greeted with rapturous applause from a spirited crowd. With no time to waste at all, Mercy gets on fire. Clad in an all yellow attire and with her powerful voice she gets the crowd jumping, hoping, singing her delectable tunes. She ad-libs so well; crowd sings long so well. The excitement is getting to a crescendo. Ahhhhhhhhhh, greets the end of the performance - an agonising end from an insatiable crowd.
Cwesi Oteng
The concert has started with every inch of space covered. Thousands are still queued outside waiting to enter. The atmosphere inside is electric, completely unimaginable. The songs have begun. It is Cwesi Oteng, the first of the advertised act who has taken over the microphone and wow, a thunderous applause welcomes him on stage. The hunger for his performance is palpable. He sings his trade mark 'God dey bless me' and every syllable vibrates through the auditorium in thunderous competition with the heavenly angelic choir.
He does a Nigerian song which is greeted with relentless response. Nobody is interested in sitting. The crowd wants more but time is not a good friend here. Cwesi Oteng has to go.
After months, weeks and days of expectation, the hour with multiple award winning American gospel artiste Kirk Franklin has come. The Perez Dome venue for the Adom Praiz is blazing hot just minutes before the concert actually begins. Patrons, thousands of them, have already taken their seats. Several hundreds are in long meandering queues which stretch to the main Dzorwulu road.
The 14,000 capacity venue is already feeling the heat and will soon be set on Holy Ghost fire. The apostles- Cwesi Oteng, No Tribe, Cecilia Marfo and Kirk Franklin are set to bring heaven down on earth. Be there!!!