Gold Fields Ghana invests US$2.8m in infrastructure projects in Ghana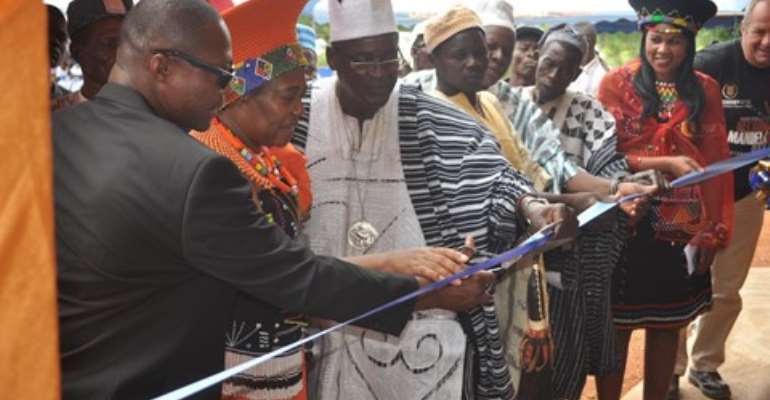 Gold Fields Ghana, one of the country's leading mining companies has invested over US$2.8million in infrastructure projects in some communities in the country.
The company said the projects are currently at various stages of execution.
This was made known by Mr. Alfred Baku, Vice President, Operations,
Gold Fields Ghana during the commissioning of the Bagri Junction D/A School project in Lawra, Upper West region Wednesday. The project cost over GH¢260,000.00.
According to him, some of the projects the company has invested in this year include, connection of electricity to Tarkwa-Nsuaem Municipal Education office, the construction of 8 Seater WC facility at Huniano, supply of furniture to various schools in Tarkwa-Nsuaem Municipal and Prestea/Huni-Valley District Assemblies, and the extension of Small Town Water Supply Systems in New Atuabo and Pepesa.
The rest include, the construction of Community Center at Kyerekyerewere, construction of Early Childhood Development Center at Huni - Valley, Tarring of 3km Samahu-Pepesa Road (Phase 3) and the 1.5km UMAT Junction-Brahabobom Road and Construction of JHS at Pepesa.
Mr. Baku revealed that, in fulfillment of the pledge made by Gold Fields to the funeral of the late President John Atta Mills, last year, "the company will also undertake the construction of ICT Centre at the Huni Valley Primary school, a school he attended as a young boy, at a cost of GHc300,000."
Gold Fields Ghana in 2002 set up the Gold Fields Ghana Trust Fund and later legally registered it as a foundation in 2004, the first of its kind in the mining industry in Ghana.
From 2005 to date, the foundation has been funded through a production-linked formula where US$1.00 of every ounce of gold sold is paid to the foundation plus 0.5% of profit before tax. Annually an average of US$3million is realized by the Tarkwa and Damang mines for the socio economic development of communities.
"It is again worth noting that, Gold Fields Ghana through its foundation is also leading the way in the health and education through initiatives such as community medical outreach and scholarships/bursaries. To date, 964 students have enjoyed or continue to enjoy scholarships and bursaries at senior high, vocational and tertiary levels of education," Mr. Baku said.