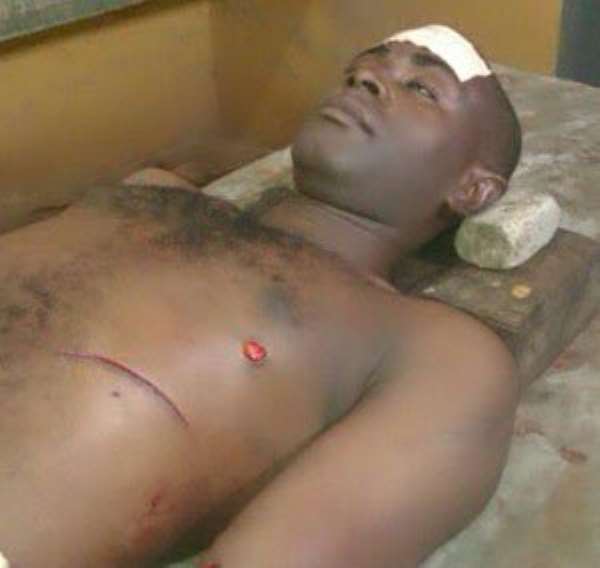 MURDERED! Akwasi Agyei
The deceased, identified as Akwasi Agyei, a Science teacher, believed to be in his mid 30s, was killed on Thursday morning by his own friend who had come to pay him a visit at Bechem.
DAILY GUIDE gathered that the teacher was in the classroom earlier in the morning to teach his first lesson between 7:00am-8:00am yesterday and  returned to his bungalow after the lesson only to meet his untimely death.
His body was found in a pool of blood with a deep cut on his chest, forehead and upper abdomen. The suspect, now in police grip, was said to have used a kitchen knife to pierce the deceased in the heart killing him instantly.
The headmaster of the school, Kwame Yiadom Boakye, confirmed the incident to DAILY GUIDE. He could not, however, give this reporter detailed account of the incident because they were in a crunch meeting deliberating over the bizarre happening.
The paper gathered that the suspect, after his arrest, claimed that the deceased owed him GH¢250 and in an attempt to retrieve the money a quarrel ensued between them, in the course of which he stabbed the teacher.
However, teachers in the school said they doubted the claims of the suspect, indicating that there might be a secret agenda yet to be disclosed by the suspect.
According to them, the suspect has been with the deceased for the past three days before the incident and the deceased indebtedness cannot suddenly result in what has occurred.
The teachers have, therefore, called on the police to conduct a thorough investigation into the incident to unravel the mystery surrounding it.
The bizarre incident brought an abrupt end to all academic work as both teachers and students of the school were thrown into a state of shock and disbelief when the unfortunate news about the sudden demise of the teacher broke.
 FROM Fred Tettey Alarti-Amoako, Sunyani