Central Regional Minister commends Fan Milk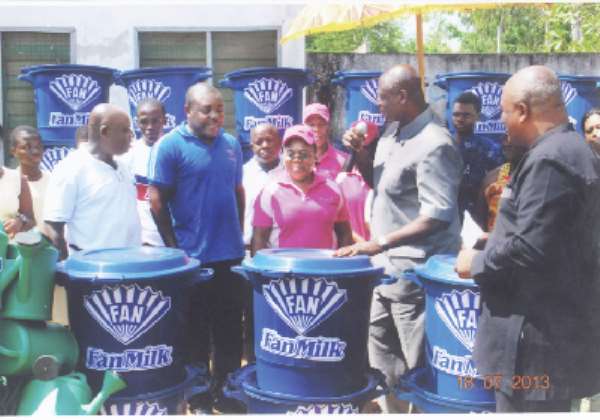 The Central Regional Minister, Mr Samuel Sarpong,  has commended the Ghana National Scholarship Beneficiaries Association (GNASBA) and Fan Milk Limited for their outstanding contributions to the promotion of the country's school health and agricultural programmes involving the youth, who are the future leaders.
He also commended the Apam township for its cleanliness which, is worthy of emulation by other communities in the region.
Mr Sarpong made these remarks at the launching of GNASBA schools environmental sanitation education campaign at Apam in the Gomoa West District in the Central Region.
The programme was preceded by a three-hour general clean-up exercise and a ceremonial tree planting under and chairmanship of Nana Edu Effum X, Paramount Chief of Apam Traditional Area.
The highlights of the programme was the presentation of litter bins, Fan Milk-branded footballs, watering cans and seedlings  to various schools.
Mr Sarpong expressed regret at the low enrolment in schools, as well as the region's high rate of teenage pregnancy, which he said needed drastic measures to change.
Presenting the items on behalf of Fan Milk, Mr Dziedzorm Gblogoga, the Brands Manager of the company, said all Ghanaians had a part to play to sustain a clean environment so that the people would enjoy good health for development.
He said that was why Fan Milk was sponsoring environmental programmes like the GNASBA schools environmental sanitation education campaigns, traditional festivals, environmental days, schools' sporting activities, as well as afforestation in schools and the communities.
He commended the teachers and the school children for their interest in helping to protect the country's natural resources in the various communities.
In his closing remarks, Nana Edu Effum Xl, appealed to  school children to report any galamsey operations to his palace for necessary action to help protect the  land.
He warned the youth against premarital sex to decrease the high rate of teenage pregnancy in the district and said the traditional council was taking measures to arrest school-children who would be found at the wrong places after 8 pm in the town.