UN troops patrol DR Congo zone as deadline to disarm ends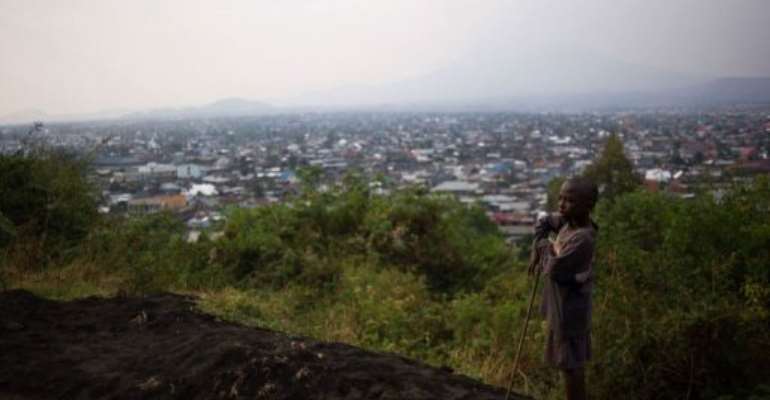 KINSHASA (AFP) - UN peacekeepers patrolled a new security zone in the volatile eastern Democratic Republic of Congo after a deadline for militia fighters to disarm passed on Thursday afternoon.
Rebel groups around the flashpoint city of Goma were given until 4:00 pm (1400 GMT) on Thursday "to hand in their weapons to" UN peacekeeping force MONUSCO and join a demobilisation programme.
As the deadline came and went it was not clear how many fighters had heeded the call, which key rebel group M23 -- behind a fresh offensive launched outside on July 14 -- dismissed as irrelevant.
The United Nations gave no immediate indication that military action had started or was planned in the troubled region which holds massive potential mineral wealth for a country that is almost as big as western Europe.
"MONUSCO peacekeepers are patrolling across the security zone in support of the Congolese armed forces," said UN peacekeeping spokesman Kieran Dwyer.
"This will be an ongoing operation to protect civilians in a densely populated area," he added.
The security zone takes in Goma and northern suburbs including the neighbouring town of Sake.
In Goma, MONUSCO commander Carlos Alberto Dos Santos Cruz explained on Thursday that the 48-hour deadline was an "opportunity to participate voluntarily in the peace process".
He said it was not targeting any specific group in the region, where some 30 armed groups were active."The main goal is the population. We need to create the conditions for the population to have a normal life without violence."
MONUSCO has said that if groups such as M23 do not disarm "they will be considered an imminent threat of physical violence to civilians and MONUSCO will take all necessary measures to disarm them".
"We consider that this measure does not concern us," said M23 chief Bertrand Bisimwa. He said his fighters were not in the region south of Goma where much fighting has taken place recently.
The DRC has been wracked by violence and civil war since independence from Belgium in 1960, often fuelled by its vast mineral wealth and drawing in its neighbours.
These days fighting is centred in the east where armed groups have continued attacking and raping citizens.
The M23, a mainly Tutsi Congolese group founded in 2012, launched a new offensive against the DR Congo army outside Goma on July 14, but fighting has died down in the past week.
Diplomats say the fresh violence has left hundreds dead.
"The M23 has used indiscriminate and indirect fire, including by heavy weapons, resulting in civilian casualties," MONUSCO said.
"The M23 has also targeted UN installations with its fire. The security zone will push these indirect fire threats out of range of Goma.
A new, heavily armed 3,000-strong UN intervention brigade has begun deploying in the region. It joins the 17,000 peacekeepers already deployed in the area with MONUSCO, the stabilisation force.
Its mission is to carry out offensive operations, alone or with Congolese troops, against rebel fighters.
The UN also said Thursday it had ordered its first unarmed surveillance drones from an Italian company to patrol volatile regions of eastern DRC.
Goma is the capital of North Kivu province, which borders two of DR Congo's eastern neighbours, Rwanda and Uganda.
M23 rebels captured the city on November 20 last year, holding it for 10 days. They left only when leaders from the Great Lakes nations of central Africa promised fresh negotiations, opening the talks in the Ugandan capital Kampala.
UN experts and the DR Congo government have said Rwanda has supplied troops and military aid to the M23, allegations denied by Kigali.
The United States last week called on Rwanda to end its alleged backing of the rebel forces.
Rwanda and DR Congo are both signatories to a UN-brokered peace and security framework signed in March agreeing not to interfere in each other's affairs.
The two countries have been involved in a long-running feud which dates back to the 1994 genocide of Tutsis in Rwanda, whose ethnic Hutu killers later fled into the DRC, sparking a drawn out conflict.