Market Arsonists Bail Condition Reviewed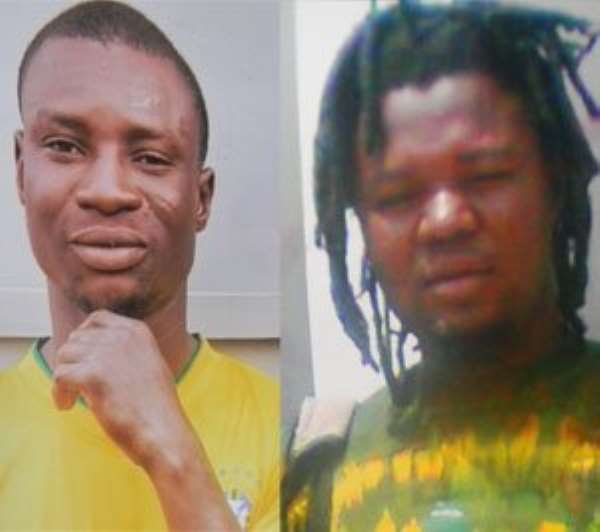 Fatau Ibrahim and Yakubu Tahiru aka Rasta
Carl Adongo, counsel for the two men standing trial at an Accra Circuit Court for allegedly setting fire to big markets within Accra, Tema and Kumasi Metropolises yesterday rushed to court to pray for a review of the bail conditions granted by the trial judge.
This was after his clients, Yakubu Tahiru alias Rasta and Fatau Ibrahim had failed to meet bail conditions of GH¢50,000 with three sureties each, two of which were to be justified  by a public servant earning not less than GH¢1,500.
He told the court presided over by Francis Obiri that as a result of their inability to fulfil the bail conditions, the accused persons had been on remand for some days now so they were back in court to plead for a review of the bail condition.
The trial judge consequently had the bail condition reviewed to GH¢50,000 with three sureties, one of who must be public servant earning not less than GH¢1,200.
The accused persons were yet to be brought to court at the time the matter was heard.
Superintendent Duuti Tuaruka, the prosecutor, disclosed that he was yet to receive advice from the Attorney-General after a duplicate docket was forwarded to the department.
The case has been consequently adjourned to August 14, 2013.
The two, Yakubu Tahiru aka Rasta and Fatau Ibrahim are standing trial on two counts of conspiracy to commit crime and causing damage to markets within Accra metropolis.
They pleaded not guilty to the charges.
The two out of five people accused by the ruling National Democratic Congress (NDC) government of setting fires into various markets in the country were on June 25, put before an Accra District Court.
However, the magistrate declined jurisdiction.
The two suspects were arrested by the police in Accra, after preliminary investigations allegedly found them responsible for some of the fires that consumed major markets in Accra and Kumasi.
By Fidelia Achama