Operation Tiger's Path underway at Achiase Jungle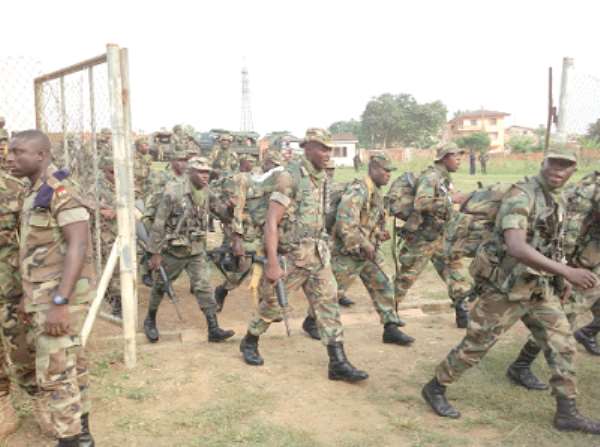 Officers and men of the Ghana Armed Forces (GAF) have renewed their pledge to defend the territorial integrity of Ghana against any insurgents.
They have also reiterated their loyalty to the 1992 Constitution in the interest of peace and tranquility.
The Commandant of the Military Academy and Training School (MATS), Rear Admiral Emmanuel Akoto Bonsu, gave the pledge at the opening ceremony of 'Tiger's Path 2013' at the Jungle Warfare School (JWA) at Achiase in the Birim Central municipality in the Eastern Region last Tuesday.
The Tiger's Path was instituted in 1991, under a former Commandant of the MATS, Lt General Augustine Peter Blay, the immediate past Chief of the  Defence Staff.
It is held every other year and based on a search-and-rescue mission.
It involves fitness and endurance exercises which are organised on a competitive basis among the formations in the GAF, namely, the Northern Command,  Southern Command, Support Services,  Ghana Navy,   and Ghana Air Force.
This year's exercise, which is the 12th in the series, is aimed at testing a cross-section of the GAF in jungle operations. It is also designed to enable the various formations in the GAF to practise the administrative and logistic aspects in the field.
Rear Admiral Bonsu said the scope of the exercise, among others, covered tactical casualty evacuation, river-crossing drills, rescue operations, platoon administration in the jungle and patrolling techniques.
He explained that the exercise also formed part of a series of training sessions organised for military personnel to prepare them to counter any insurgency.
He expressed the hope that the exercise would further deepen the cordial relationship between the military and their civilian counterparts and also increase awareness of the exercise.
Interestingly, the GAF involves journalists in the biennial exercise by subjecting them to endurance exercises.
This time round, journalists joined their military counterparts in a 75-kilometre bush navigation and obstacle crossing to make them experience and appreciate what pertains in military camps.
Journalists from the Daily Graphic, Metro Television, TV3 and Oman FM are participating in the week-long exercise.
 
By Sebastian Syme/Daily Graphic/Ghana
Writer's email: ' ); document.write( addy95138 ); document.write( '' ); //--> This e-mail address is being protected from spambots. You need JavaScript enabled to view it