Footbridge built over Densu River at Weija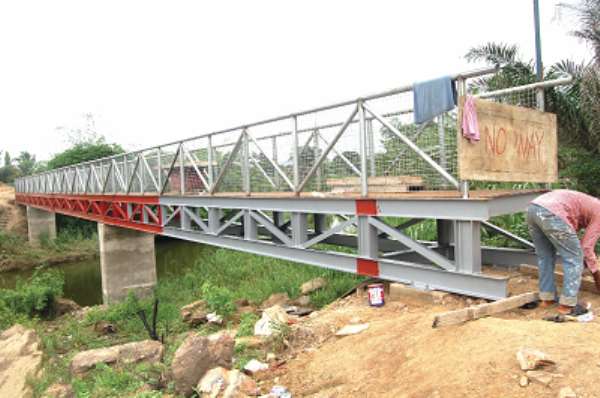 A steel footbridge has been constructed on the Densu River at Weija in Accra.
The  GH¢300,000 steel footbridge will serve as a route for 1,000 schoolchildren in the Weija catchment area.
Construction works on the  45-metre long and two-metre wide footbridge, which began in March, this year, was funded by the Ga South Municipal Assembly under the Local Government Capacity Support Project Urban Development Urban Grant.
It followed a Daily Graphic publication of the danger schoolchildren between the ages of five and 12 in the area faced in going to school daily.
In the September 14, 2012 story, the Daily Graphic reported that the children from Ayigbe Town, SCC, Old Barrier, Bortianor and Broadcasting, all communities on one side of the Weija Dam,  resorted to scaling over the metal fence on the Weija Dam daily to access education.
That situation compelled many parents to withdraw their children from the Weija Cluster of Schools.
The Ministry of Transport came to the rescue of the children by providing Metro Mass Transit (MMT) buses to convey them to and from their respective homes to schools and further gave directives for the construction of the steel bridge.
Speaking to the Daily Graphic yesterday, the Ga South Municipal Chief Executive, Mr Jerry Acquaye Thompson, said although the construction of the footbridge had been completed, it was yet to be officially opened for use by the schoolchildren.
He said once the bridge was opened, the buses would stop conveying the schoolchildren.
Some of the residents, who spoke to the Daily Graphic commended the government and the Ga South Municipal Assembly for the project.
Madam Rebecca Addo, a grocery shop owner, whose house is close to the footbridge, said the footbridge would not only benefit the schoolchildren but all the residents.
'This means that business activities between communities on each side of the Densu river will once again take place,' she said.
By Dominic Moses Awiah/Daily Graphic/Ghana