Global Access Savings rewards drivers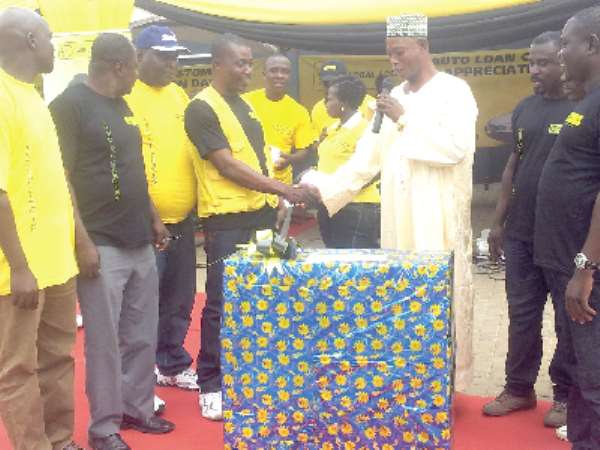 Global Access Savings and Loan Limited (GASL) has organised its maiden Auto loan 'Customer Appreciation Day' to reward deserving commercial drivers and transport operators.
The event saw 50 commercial drivers and their respective unions receive various prizes, including airconditioners, brand new car tyres, batteries, home theatres, television sets.
Established in November, 2011, the auto loan programme is aimed at encouraging commercial drivers to own their vehicles by financing the purchase of their vehicles and allowing them to pay over a period of time through daily or weekly sales.
Once the full payment is made, ownership is transferred to the commercial driver.
Speaking at the short ceremony to reward customers in Accra on Saturday, the Chief Executive Officer of GASL, Mr Emmanuel O. Owusu, said the goal of the auto loan was to satisfy the needs of their customers.
'We want  commercial drivers to be empowered to own their own vehicle,' he said.
Mr Owusu said within the 19 months period since its establishment, GASL  had managed to finance the purchase of 346 vehicles with GH¢9.4 million and a loan recovery rate of 97 per cent.
Touching on the future, he said GASL sought to expand the loan facility to commercial transport operators in other parts of the country, adding 'currently we are concentrated in Accra, Tema and Kumasi'.
According to Mr Owusu, the succes of the auto loans programme last year encouraged management of GASL to set aside in its 2013 budget, GHc10 million to support the programme.
'At the end of June, this year, almost GH¢3 million of that amount had been disbursed,' he said.
Mr Owusu, therefore, urged commercial drivers and transport operators to take advantage and apply for the loan, stressing, 'there is more money available for the rest of the year'.
The Director of the Motor Traffic and Transport Unit (MTTU) of the Ghana Police Service, Assistant Commissioner of Police (ACP) Mr  Angwubutoge Awuni, lauded the management of GASL for implementing a programme to reward its customers.
He, however, cautioned commercial drivers against unnecessary speeding and over-loading which could cause accident and loss of properties.
Some of the award winners include the  Lapaz Highway Branch of the Ghana Private Road Transport Union (GPRTU). They took home an air-conditioner for the best union repayment award.
By Dominic Moses Awiah/Daily Graphic/Ghana