Ghana should be concerned about issues of desertification – UNCCD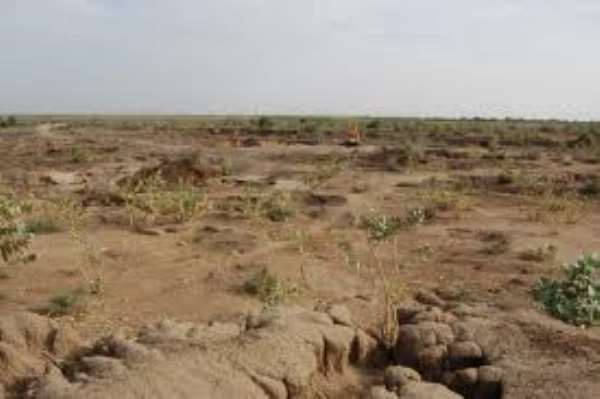 Ghana is a tropical country with vast green forests, but it is among countries on the margins of arid areas where the highest level of degradation is occurring.
'Most of the land degradation happening in the world is happening in the non-dryland areas', observed Wagaki Mwangi, Public Information and Media Officer at United Nations Convention to Combat Desertification (UNCCD).
She wants Ghanaians to be concerned because of the envisaged challenges in satisfying the needs of future population growth in food, energy and water which all depend on the land.
A 2012 World Bank report has stated that by 2030 droughts and heat will leave 40 percent of the land in Sub-Saharan Africa now growing maize unable to support that crop, while rising temperatures could cause major loss of savanna grasslands threatening pastoral livelihoods.
In September this year, the Conference of Parties (COP 11) to the United Nations Convention to Combat Desertification (UNCCD) will be convened in Namibia, to deliberate on issues of land degradation, desertification and drought.
Under the theme, 'A stronger UNCCD for a Land-Degradation Neutral World', the COP11 will assess progress under the 10-Year Strategy (2008-2018) to combat desertification.
'Majority of Ghanaians are still dependent on the land and the decisions that are being made in Namibia have to do with land management - how do you manage the land? What priorities is the Ghanaian government giving to issues of land degradation? - those are the kind of issues we'll be talking about', stated Wagaki.
According to her, it is important that populations affected are at the forefront of discussions if set targets are to be achieved.
Land, she observed, remains Africa's major asset in poverty eradication, 'but in terms of attention, we're giving to it, in terms of mainstreaming in policy, we're not doing as well. So if the public does not arise and say this has to be addressed, the government will never prioritize it'.
The UN estimates two-thirds of Africa's arable land could be lost by 2025 if the trend of desertification continues.
One of the most unique large-scale international climate change projects is The Great Green Wall initiative (GGW) underway in Africa.
Ghana is among 11 nations that have agreed to participate in the project - a 4,000 mile 'wall of trees' is being constructed across the east-west axis of the continent as a defense against rapid, expanding desertification of the Sahara.
The project, initiated by TerrAfrica, was approved by the African Union in 2007, under the umbrella of the Community of the Sahel-Saharan States.
Teko Nhlapo, TerrAfrica Communication and Advocacy Officer, says the African-driven global partnership will expand sustainable land and water management in targeted climate vulnerable regions in West African and Sahelian countries.
He is confident the project will also impact positively on farming in Africa.
Story by Kofi Adu Domfeh