Petitioners File 176-Page Address....As They Cite Over 60 Authorities To Back Case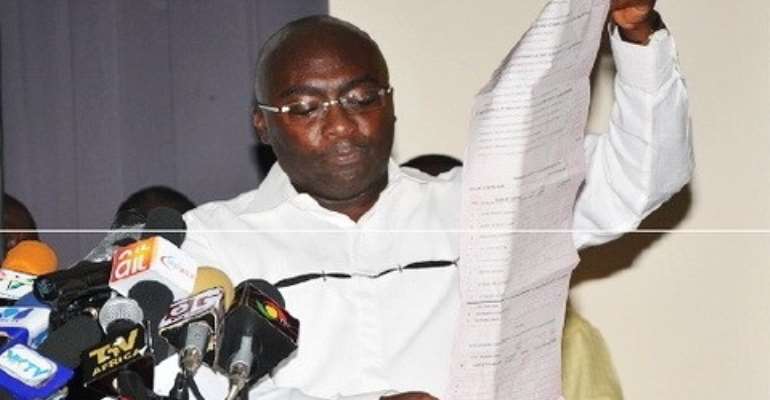 Counsel for the petitioners in the Supreme Court case challenging the results of the 2012 Presidential election on Tuesday afternoon satisfied the Supreme Court's order of 17th July, 2013, by filing their address to buttress their case that the 1st petitioner, Nana Akufo-Addo of the New Patriotic Party, should have been rightfully declared as winner of the December polls and not John Mahama, the candidate of the ruling National Democratic Congress.
The filing of the document titled 'Written Address of Counsel for Petitioners' means that all is set for the final determination of hearing, with the court set to resume hearing on Wednesday 31st July 2013.
The address spanning some 176 pages, cites over 60 authorities and spells out the case for the petitioners.
The case of the petitioners is mainly on the facts and figures on the pink sheets, the official document that the Electoral Commission relied on to declare the results of the presidential poll held on 7th and 8th December. They have also grounded their case on clear breaches of the Constitution and other electoral laws and practices in Ghana.
The address reiterates the six main categories of irregularities, malpractices, violations and omissions in various combinations, which affected the results of the election in 11,842 polling stations.
To prosecute their case, the petitioners are relying on 10,119 pink sheets, 'which spoke to the nature of the violations, malpractices, and irregularities grounding the petition.'
The true result of the 2012 presidential election after it is cured of all the infractions through the necessary annulments, the address explains, should see Nana Akufo-Addo earning 56.85% with the first respondent, John Mahama, obtaining 41.79% of the valid votes cast.
To underline the strength of their case, according to the issues laid down by the court, the address has shown in clear terms that most of the six categories, can on their own, show that John Mahama, the presidential candidate of the NDC, who was declared winner by the EC on December 9, was not validly elected, which requires over 50% of the valid votes cast.
The petitioners are therefore asking the court to declare that John Mahama was not validly elected and that the court should invoke its constitutional and statutory powers to declare Nana Akufo-Addo as the validly elected president of the Republic.
The address also noted that the 'respondents failed or refused to file any pink sheet, except the 17 pink sheets 2nd Respondent was compelled to tender in evidence on the penultimate day of trial, in an attempt to rebut damaging evidence led against it.'
It also notes that 'beyond reliance on inconsequential reports of election observers, the respondents, in effect, tendered no evidence of substance of their own,' as they 'all sought to whittle down and reduce the number of pink sheet exhibits petitioners had filed on grounds of defects in labelling of the pink sheets.'
The petitioners believe that the final decision of the Supreme Court will have fundamental and far reaching consequences for the future of democracy in Ghana, as 'it will either affirm the commitment of citizens to our democratic journey and bolster their confidence in democratic institutions and the rule of law, or undermine their belief in political and legal institutions of the nation.'
The concluding section of the address states: 'The petitioners have shown by the sheer depth and weight of the evidence adduced at trial and the force of legal arguments advanced in this address that there were indeed, substantial constitutional and statutory violations, malpractices and irregularities in the 2012 presidential election and these violations, malpractices and irregularities had a material effect on the results of the election as declared by the 2nd Respondent.'