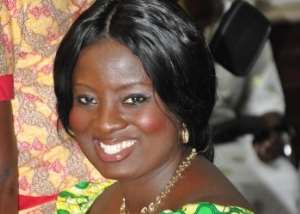 The government is developing a national cyber security policy framework and strategy to deal with cyber threats, Ms Victoria Hamah, Deputy Minister of Communications, said on Monday.
Consequently, an agreement has been signed with the International Telecommunication Union (ITU) to help develop a national Computer Emergency Response Team (CERT) to react rapidly to security threats that may affect national security and the well-being of Ghanaians using the cyber space.
Ms Hamah disclosed this at the opening session of the Ghana Network Operators 'Group (GhNOG) workshop in Accra.
The four-day workshop is an annual event that draws participants from public and private sectors to discuss issues about the adoption, design, implementation and management of networks and associated technologies in government, academia and industry.
Ms Hamah said the government was poised to drift towards an information economy,  and was in the process of upgrading the critical national infrastructurethrough the support of the US.
'An I-root server project is in progress while the Ghana Internet Exchange will be expanded to have hubs in Takoradi, Kumasi and Tamale', she said.
She said the upgrade would ensure that access to information would be very fast and that bandwidth utilisation would be optimal.
Ms Hamah called on the Information Technology Association of Ghana (ITAG) and the National Information Technology Agency (NITA) to begin the accreditation process to ensure that all capacity developed were properly harnessed and accessible in a timely manner by the government and the private sector to ensure no skills gap in the management of the emerging infrastructure.
Mr William Tevie, Director General of NITA, said the agency was working to design guidelines to make information technology practices more efficient and effective.
'NITA will be glad to have tutorial at future GhNOG workshops where these guidelines can be shared with the technical community for adoption to enhance development of the IT profession in Ghana,' he added.
Professor Anthony K Ahiawodzi, Pro-Vice Chancellor of the University of Professional Studies, Accra, said Information and Communication Technology was crucial to the delivery of education in the 21st Century.
'Not only does it grant us (institutions of higher learning) the ability to enhance our teaching, learning and research capacity, it also offers the opportunity to extend our reach through distance learning, thus positioning our institutions to address the challenges and responsibilities facing higher education,'he said.
Mr  Ahiawodzi said the university was grateful for the partnership that existed between the Ghana Chapter of the Internet Society,  NITA and the university system aimed at driving innovation and enhancing competitiveness of the institutions of higher learning.
He stressed the need to leverage on emerging technologies to facilitate collaboration between university administrators, faculty, students and to empower particularly faculty to use related technologies to develop portfolios, course assignments, standards and outcome based projects to enable students to access and submit assignments online.
GNA