30 July 2013
|
Business & Finance
Penplusbytes outdoors Media Guide for Oil and Gas Reporting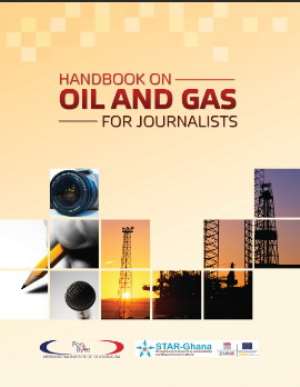 Penplusbytes has published a handbook to serve as a guide for journalists reporting on the oil and gas sector to provide effective media and Civil Society Organisations (CSOs) oversight and ensure good governance.
The handbook is one of the key building blocks of Penplusbytes' 'Empowering the Media to Play an Active Watchdog Role over Ghana's Oil and Gas Revenues and Resources' project with funding and technical support from STAR-Ghana.
The project aims to improve the coverage of oil and gas stories by the Ghanaian media leading to an increase in the quantity and quality in terms of in-depth and investigative reporting since a knowledgeable media plays a critical role in helping inform and engage citizens, CSOs and parliament to effectively hold government and companies in the sector accountable.
The guide will educate and inform journalists about the chronology of events and the geopolitics surrounding Ghana's oil and gas exploration, contracts and licensing, the money trail & the economics of oil and gas. Additionally, the media guide will throw more light on environmental issues and the legal and regulatory framework of the oil and gas sector and provide leads and pointers for journalists in their pursuit of promoting and ensuring transparency and accountability of key stakeholders in the sector.
Gifty Sackey, Programmes Assistant at Penplusbytes said 'the handbook's main objective is to provide journalists and other stakeholders with an information and knowledge resource to enable them play and effective watchdog role in Ghana's oil and gas revenues and resources.'
Apart from this media guide publication, Penplusbytes has organized a training workshop and a field trip for 10 selected Ghanaian journalists to enable them acquire firsthand knowledge of the oil and gas sector, and also understand the pertinent issues regarding the sector to improve on the quality and quantity of oil and gas stories in the media. Penplusbytes also carried out a baseline research to establish the nature of reporting and writing by the Ghanaian media on the sector. The organisation has also deployed an oil and gas website which currently serves as a platform for CSOs and journalists to engage each other and also exchange knowledge and information on the extractive sector for better advocacy on Ghana's oil and gas resources and revenues.
Future activities planned include forums for CSOs, experts in the industry and journalists to discuss topical issues and set the agenda for transparency and accountability in the sector.