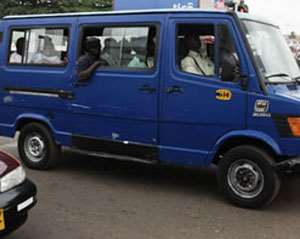 After a meeting with government and other stakeholders last week in Accra, transport operators have indicated their resolve to increase fares this week following the increase in the prices of petroleum products by the National Petroleum Authority (NPA). The delay in increasing transport fares shortly after the announcement by the National Petroleum Authority (NPA) was to enable the transport operators consider certain operational costs.
They said although the increases in the prices of petroleum products were marginal, they would increase the transportation fares.
The pump price of petrol has been increased by approximately 1.71 percent, diesel by 1.27 percent and LPG by 6.18 percent.
Alhaji Aliu Baba, General Secretary of the Ghana Road Transport Coordinating Council, speaking to journalists in Accra, explained that other operational costs have to be considered in the operations of transport owners.
'The 1.7 percent increment is rather insignificant. But the conventional agreement we have with government requires us to adjust transport fares only when the increases over a period of time reach the 5 percent mark and above.'
Components such as spare parts, lubricants, insurance, wages, as well as levies-Vehicle Income Tax are all important factors in the determination of transport fares.
He therefore appealed to commuters to bear with transport operators and pay the new fares.
By Samuel Boadi