July 22, 2013
|
Business & Finance
Board Chairman of Access Bank Ghana appointed Group MD/CEO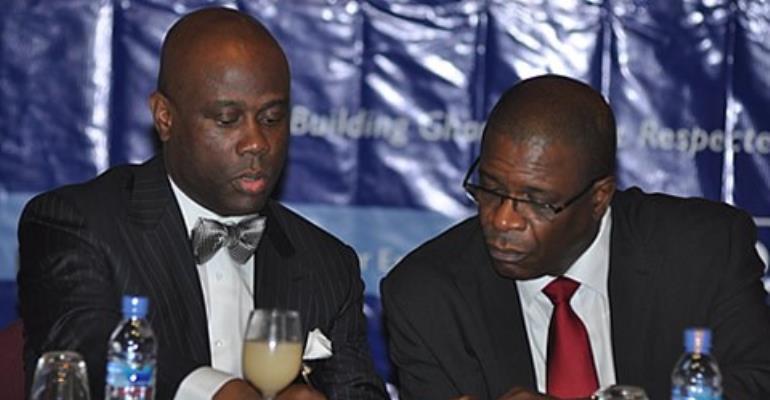 The Board of Directors of Access Bank Plc, the parent company of Access Bank (Ghana) Limited, has appointed Mr. Herbert Wigwe as the new Group CEO designate of one of Africa's largest banking institutions.
Mr. Herbert Wigwe, 46, currently the Group Deputy Managing Director and Board Chairman of Access Bank (Ghana) will succeed Mr. Aigboje Aig-Imoukhuede who will retire at the end of 2013, after eleven and a half years of outstanding performance. In line with the Bank's robust succession planning policies, Aigboje and Herbert will spend the next 6 months to implement a seamless handover, a statement from the bank has said.
It noted that "Mr. Wigwe's appointment comes as no surprise, as he is one of the pioneering and founding members of Access Bank Plc in 2002. Herbert has a complete understanding of Access Banks strategies, culture, technology and competitive environment, and has been instrumental in shaping the Bank's remarkable transformation over the years. Importantly, he has strong relationships with the entire management team and customers of the Bank."
Under his leadership as Board Chair, Access Bank Ghana has witnessed phenomenal growth in key performance indicators over the past four years. The Bank has built enormous goodwill from the Ghanaian publics, as evidenced by the many industry awards it has won and its renewed vision to become one of the top 3 Banks in Ghana.
"We are pleased to hear of this announcement. Having worked with Mr. Wigwe in the last 2 years, we are convinced that his background and skills make him a perfect fit to lead Access Bank in its next chapter of transformation", said Mr Dolapo Ogundimu, Managing Director for Access Bank Ghana.
Mr Ogundimu added: "Ghana remains an important market for the Access Bank Group. With his understanding of the local market and business terrain, Herbert's appointment will be useful in propelling the Bank to become one of the market leaders in this industry".
"I am excited to take on this new role," said Mr. Herbert Wigwe.
"Access Bank has incredibly talented employees and is in a strong position to further its leadership in the industry. I look forward to leading Access Bank in the years ahead and helping to make it even stronger than it is today. I would like to thank the Board for their strong endorsement and the opportunity to lead this great institution. I look forward to meeting our employees, customers, and shareholders across our various markets in the weeks and months ahead".
Prior to joining Access Bank, Mr. Herbert Wigwe served as an Executive Director responsible for Corporate Banking in Guaranty Trust Bank Plc. In 2002, he resigned to join Aigboje Aig-Imoukhuede in transforming Access Bank Plc as Group Deputy Managing Director. Herbert is an alumnus of Harvard Business School, and a Fellow of the Institute of Chartered Accountants of Nigeria (ICAN). He also holds Masters Degrees in Banking and International Finance from the University College of North Wales and Financial Economics from the University of London respectively.