Africa must invest in agric research — Amissah-Arthur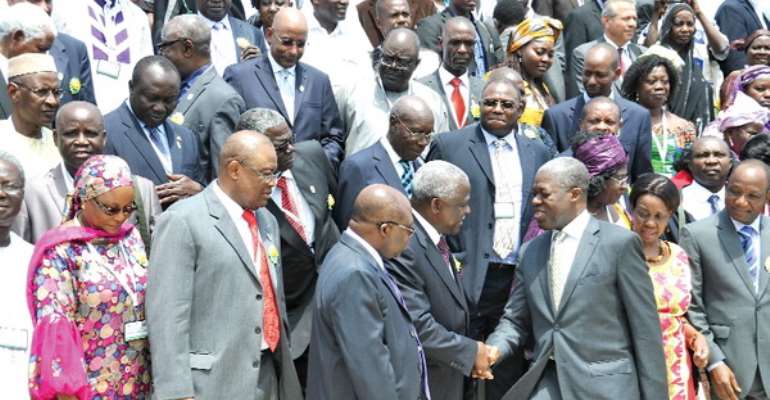 The Vice-President, Mr Kwesi Bekoe Amissah-Arthur has underscored the urgent need for African countries to invest more in agricultural research to improve productivity.
He also stressed the need for the application of sustainable technologies and innovation to enhance food security on the continent.
The Vice-President was opening the 6th Africa Agricultural Science Week 2013 and the General Assembly of the Forum for Agricultural Research in Africa (FARA) in Accra yesterday.
FARA, an apex organisation, is a coalition of major stakeholders in agricultural research and development in Africa.
Mr Amissah-Arthur said to reduce poverty, there was the need to increase agricultural productivity to raise income, reduce food prices and stimulate growth in other sectors.
Gender concerns
Mr Amissah-Arthur said Ghana was fashioning a programme to integrate gender concerns into policies and projects of the Ministry of Food and Agriculture.
He said programme, which forms part of the government's initiative to reduce poverty in the country, was targetting women and the youth, adding that the country had young people with a propensity to adopt new ideas, concepts and technology.
The Vice-President said the country had made significant progress in reducing poverty and hunger through agricultural development.
He said the agricultural sector had grown by an average of about five per cent in the past 25 years, with reforms in the cocoa sector and rising yields in staple crops helping to increase incomes in rural areas.
Keynote address
Delivering the keynote address, the President of the International Fund for Agricultural Development (IFAD), Dr Kanayo F. Nwanze, said Africa was endowed with many agricultural resources that should make it possible for the continent to feed itself.
Ironically, he said, hunger and poverty stared a large number of people in Africa in the face due to long years of low investment in agriculture.
Dr Nwanze said only six per cent of cultivable land in Africa was irrigated, compared to 40 per cent in Asia, adding that there was the need to link agriculture to development.
He suggested, for instance, that rural communities needed to be developed to encourage the youth to stay and engage in agricultural activities in their communities.
Research is critical
The Minister of Food and Agriculture, Mr Clement Kofi Humado, in a welcome address, said the agricultural sector in Ghana had an ambitious policy plan within the framework of the New Partnership for Africa's Development (NEPAD) to apply science and technology to food production and agricultural development.
By Kofi Yeboah/Timothy Gobah
Daily Graphic/graphic.com.gh
Writers' Email:
' ); document.write( addy35312 ); document.write( '' ); //--> This e-mail address is being protected from spambots. You need JavaScript enabled to view it
This e-mail address is being protected from spambots. You need JavaScript enabled to view it .g