Give more assistance to smallholder farmers - Veep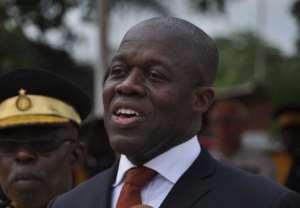 Vice-President Kwesi Bekoe Amissah-Arthur has appealed to the International Fund for Agricultural Development (IFAD) to direct more assistance to smallholder farmers in the rural areas.
That, he said, would enable them to grow and sell more food, increase their income and determine their own lives.
The Vice-President made the appeal when a delegation from the IFAD, led by its President, Dr Kanayo Felix Nwanze, called on him at the Flagstaff House in Accra on Wednesday.
Mr Amissah-Arthur said: 'The small farmer has to get out of poverty, hence the need for more attention in the rural area.'
He said the government had initiated a lot of projects in the agricultural sector to improve the lives of the rural people, saying that 'we are analysing  projects now to enable us to direct the critical ones to the rural people'.
He stressed the government's commitment to collaborate with the private sector to support infrastructural development in rural areas.
Dr Nwanze, for his part, commended the government for the transformation and economic growth achieved saying that 'this is not a mean achievement'.
He said small farms accounted for 80 per cent  of all farms in sub-Saharan Africa and in some regions they contributed up to 90 per cent of food production.
He said Ghana's support for the cassava sector was a good example of how science and agricultural development could work hand in hand to empower the smallholder of Africa to reduce hunger and poverty.
The Minister of Food and Agriculture, Mr Kofi Humado, said the country had developed several agricultural policies under which smallholders, particularly the youth and women, would be empowered to increase production and generate more income to improve their living standards.
The government is committed to reducing poverty through agricultural and rural development. To that end, its 2010-13 Ghana Shared Growth and Development Agenda (GSGDA) stressed the need to focus on agriculture, fisheries, small and medium-scale enterprises, and sanitation - with emphasis on the dry savannah region in the north.
By Timothy Gobah/Daily Graphic/Ghana