Prez Mahama seeks support for feeder roads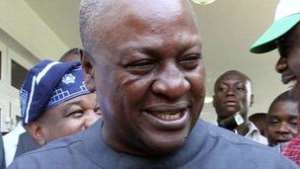 President John Dramani Mahama has made proposals to the African Development Bank (AfDB) to support the government to construct more feeder roads.
At the daily media briefing at the Flagstaff House, Kanda in Accra, yesterday, a Deputy Minister of Information and Media Relations, Mr Ibrahim Murtala Mohammed, said the move was to support the government to connect the rural areas to the cities to stop post-harvest losses in the food producing areas.
He said while the AfDB had contributed to Ghana's socio-economic development in the areas of health, education and infrastructure, the government would continue to liaise with it to improve the road sector.
President Mahama last Monday held a closed-door meeting with officials of the bank to discuss the way forward in its co-operation with Ghana.
The meeting was also envisaged to deepen the bank's relations and support to propel the socio-economic development of the country.
Mr Mohammed said the expansion of feeder roads would cover all the districts and said the government would 'continue to pursue that collaboration to achieve the development goals of the country''.
On the committees set up to investigate the activities of the Savannah Accelerated Development Authority (SADA) and the Ghana Youth Employment and Entrepreneurial Development Authority (GYEEDA), the deputy minister said the government would receive the reports of the two bodies when they were ready.
He expressed confidence in the committees and said the action or inaction of the President would depend on their findings and asked the public to remain patient.
GNA