13 July 2013
|
General News
Don't limit activities to urban centres -Dr Heloo urges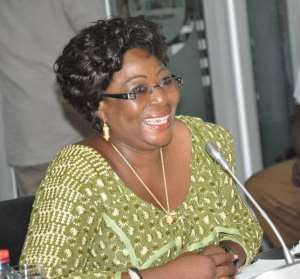 The Deputy Minister of Environment, Science, Technology and Innovat-ion (MESTI), Dr Bernice Adiku Heloo, has called on advocacy groups in the country not to limit their developmental activities to urban centres but to let it impact on the people in the districts and constituencies.
She explained that anti-social activities such as the indiscrimnate disposal of garbage, environmental degradation as well as immoral activities that had plagued the urban centres also existed in most rural areas.
Dr Heloo, who is also a Member of Parliament for Hohoe, stated this when advocacy groups led by Miss Earth, Ghana, paid a courtesy call on her in Accra on Thursday.
She urged them to make a difference in their advocacy work by bringing innovation to whatever they do by reaching out to the public and not to concentrate their activities in the cities alone.
She said as the country continued to develop through science and technology, the government also was mindful of the impact of science and technology on the environment.
She said the government had, therefore, put in place mitigating factors to minimise air, water and land pollution and, therefore, welcomed environmental advocacy groups who would like to assist in reducing the damage on the environment.
He commended youth groups especially the beauty queens who wanted to use their success and beauty to help their societies instead of the other way round.
Dr Heloo said her outfit was ever ready to partner the Miss Earth advocacy group to educate the ordinary Ghanaian to take more interest in the environment as well as be at peace with the environment.
Miss Earth, Theresa Fajaskova, urged Ghanaian youth to take their education seriously.
She explained that with education, the youth could become good footballers, social workers, politicians as well as volunteers who would bring changes in the lives of others who were not fortunate to reach their level of education.
She said with education people would refrain from destroying the environment especially the beaches and the streets through indiscriminate disposal of refuse and garbage.
Co-ordinator of Miss Earth Ghana Project, Mr Tony White Meribe, said the group has planted 3,000 tree seedlings last year as well as visited schools where environmental clubs were being formed to educate the public on the importance of the preserving the environment.
By Abdul Aziz/Ghana