Celebration Of The Centenary Of Dr. Kofi Abrefa Busia, Prime Minister Of The 2nd Republic (1969–1972)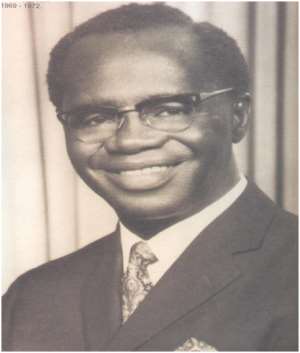 THE BUSIA FOUNDATION INTERNATIONAL WISHES TO INFORM THE PUBLIC OF THE COMMENCEMENT OF THE CENTENARY OF DR. K. A. BUSIA: MOVING THE VISION FORWARD. THE YEAR LONG CELEBRATIONS WILL BEGIN WITH DOCUFILM EXCERPTS, AND A FORUM ON THE LIFE AND WORKS OF DR. BUSIA AT THE AFRICAN REGENT HOTEL ON THURSDAY, JULY 11 AT 6:OO-9:00PM.
SPEAKERS INCLUDE HE PRESIDENT J. A. KUFUOR, NANA ADDO-DANKWA AKUFO-ADDO (PRESIDENTIAL CANDIDATE OF THE NEW PATRIOTIC PARTY), HON. MADAM AMMA BUSIA AND PROF. ABENA P. A. BUSIA. MC: MS. AKOSUA BUSIA, MODERATOR: HON. KOFI OSEI AMEYAW, MP FOR ASUOGYAMAN.
MEMBERS OF DR BUSIA'S ADMINISTRATION WILL BE IN ATTENDANCE.
FRIDAY, JULY 12: A CELEBRATION OF HIS FAITH AND WORKS WILL BE HELD AT THE CALVARY METHODIST CHURCH, ADABRAKA AT 10:30AM-12-30PM.
DR. BUSIA IS FONDLY REMEBERED FOR HIS
ADVOCACY OF THE RULE OF LAW, CIVIC
EDUCATION, GOOD GOVERNANCE AND HIS ESTABLISHMENT OF THE MINISTRY OF RURAL DEVELOPMENT.
ON THE ACADEMIC FRONT, DR. BUSIA, AN OXFORD SCHOLAR, WAS THE FIRST AFRICAN PROFESSOR AND DEPARTMENT CHAIR AT GHANA'S PREMIER UNIVERSITY, LEGON. HE HELD CHAIRS AT UNIVERSITIES IN EUROPE AND THE AMERICAS.
DR. BUSIA REMAINS A GREAT SOURCE OF INSPIRATION TO LEADERS, SCHOLARS AND THE WORLD OVER.
Dr. K. A. Busia
(July 11, 1913-Aug. 28, 1978)
Anane Agyei, Director Of Public Affairs Tel: 0208177167